Building A Team
Building Bryco Facility Services
---
BY Jake Meister, Associate Editor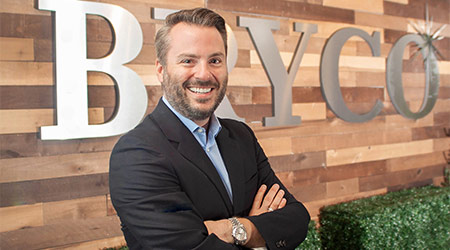 The new millennium wasn't off to a great start for Bryan Lazorik. Three days before Christmas 2000, he was laid off from his management position at a hardwood millwork firm. Trying to process his situation, he sat with his roommate dunking Oreo cookies in milk in the early morning. That's when she asked him a really good question: "What's next?"
Lazorik thought about it a bit. He had completed a couple of college classes, but hadn't attained his bachelor's degree, so that eliminated some options in his search for work. The job market at the time was also very competitive, so that limited his prospects.
Fortunately, Lazorik had two things working in his favor: His youth and the knowledge that he at least had a passion. It was then that Lazorik told his roommate he was going to start a cleaning business because he had enjoyed cleaning. He launched Bryco Facility Services in 2001 with the goal of providing exceptional janitorial work to local businesses.
Balancing Act
After about six months working as the owner and lone employee, Lazorik was able to land his first client in January 2002 after joining a local chamber of commerce and attending networking events. Unfortunately, that first client wasn't profitable — they wanted to trade out cleaning services for billboard advertising. But Lazorik was desperate, so he took the deal and soon found the summer of 2002 approaching with little progress.
"I called my mom at 1 a.m., feeling sorry for myself and saying I just couldn't do this anymore," says Lazorik. "She said, 'I'll be right there.' We started cleaning together from then on. At first, I only paid her in White Castle meals after we cleaned. But as business grew, she became our first supervisor. After a few more months of cleaning that client, we landed a huge multi-facility client that saw the billboard and called."
Just like that, Bryco Facility Services was doing steady work in the Merrillville, Indiana area.
Wanting to keep the momentum going, Lazorik took some early advice he received from another industry professional to join the Building Service Contractors Association International (BSCAI) for networking and educational opportunities. He attended his first BSCAI event in 2003 in Chicago — a short drive from his native Northwest Indiana. This first BSCAI event gave him just enough knowledge to carry him through an eventful launch of his company.
"The education I gained from the first few seminars at BSCAI just blew my mind," says Lazorik, who is now in his fourth year of being on BSCAI's board of directors. "At that time, my background was human resources and marketing. But BSCAI gave me the essential knowledge I needed to write better proposals, effectively manage operations and the technical information I needed to properly service the wide array of different client facilities we encountered."
When business began to grow, Lazorik added a few staff members. A favorite hire during his first decade-plus in business was Corey Bush, a human resources administrator and assistant, whom he hired in 2011. From the jump, Bush and Lazorik clicked and the former proved value beyond the positions Lazorik had for him at the time.
Unfortunately, the business relationship was short lived. Bush, married with young children, needed more of an opportunity than what Lazorik could offer at the time. He rationally left Bryco after less than a year to take a management job at an established restaurant chain. But before he took off, he let Lazorik know that if the situation were right, he'd come back. Unbeknownst to both men, that situation would occur sooner rather than later.
Lazorik's first decade-and-a-half in the business went well enough. Bryco Facility Services wasn't expanding, but it wasn't failing, either.
"We were really very small, probably 15 employees or less until 2014-2015," says Lazorik. "I think I was like most entrepreneurs when starting out. I was probably good at a few things, but not great at everything."
Lazorik has no problem identifying sales as a weakness of his. Despite being a strong conversationalist and very personable, sales wasn't something he wanted to do. It was something he had to do. He didn't particularly like prospecting, so making the phone ring wasn't a strong suit.
Consequently, poor sales expertise and a small staff left the company in a rut where it would get two clients only to lose another. Growth was going to be hard to come by unless something changed.
Oddly enough, a change in perspective didn't occur to Lazorik on a sales call or while wielding a broom. It struck him in 2014 while in a crowd listening to the mayor of Valparaiso, Indiana, talk about what it takes to build a team of leaders. Listening to the mayor speak, Lazorik remembered asking himself what his endgame was with it all. Did he want to just get by the way he was, or did he want the company to grow so that everyone could live more happily?
"I had that proverbial light bulb go off in my head," says Lazorik.
next page of this article:
Creating A Team Of Strong Leaders
---