Back To Vegas For BSCAI
Contracting Success Conference: A Place For BSC's To Network
---
BY James DeGraff, Associate Editor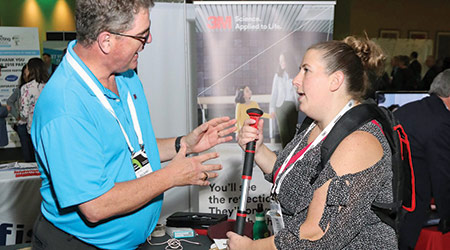 Aside from the education itself, the Contracting Success Conference also serves as a networking opportunity for figureheads and rookies alike, as well as an annual reunion for many BSCs with new wisdom to impart. Several chances will be provided over the three days to continue such tradition, leading off with Networking Roundtables on Wednesday from 1 p.m. to 2:30 p.m. With eight themes to choose from, including "Social Media/Marketing For Your Brand," "Recruitment/Hiring," and "Using Technology To Grow," attendees are in for 90 minutes of free-range conversation and likely some of the most applicable takeaways from the entire week.
"When you don't compete in the same market with people you've met at these events, you're more willing to share information that helps businesses with day-to-day problems," says Diamond. "My company has been participating with BSCAI for over 40 years, and all of the significant practices and processes we've adopted have come out of meeting other contractors around the country."
Wednesday evening plays host to the Welcome Reception from 6:30 p.m. to 8 p.m., allowing attendees to strike up new relationships or continue previous conversations over appetizers and drinks. Another opportunity comes in the form of the Networking Reception on Thursday from 6:30 p.m. to 8 p.m., where exhibitors will also be on-hand to share the latest product innovations.
Attendees exploring the ISSA Show floor should pay a visit to the BSCAI booth (931) in Central Hall of the Las Vegas Convention Center, especially during the New Member Booth Party from 10:30 a.m. to 11:30 a.m. on Thursday. With a reputation as the go-to spot as trade show hours wind down on the final day of the ISSA Show, snacks and refreshments will be on-hand — along with BSCAI board members eager to teach newcomers about the industry.
"I'd recommend stopping by the booth a few different times because there will be unique takeaways attendees can pick up from each visit," says Diamond. "The New Member Booth Party is especially fun because we'll spend a little more on giveaways and want to make sure newcomers enjoy their first experience. There will also be plenty of valuable contacts to meet."
Friday allows for another scheduled networking opportunity in the form of a coffee break from 9:30 a.m. to 10:15 a.m., where exhibitors once again will be on-hand to showcase products and answer questions.
Honors And Accolades
Each year at the Contracting Success Conference, BSCAI will honor the winners of the CLEAN Awards; a series of accolades recognizing members for exceptional achievements in a variety of categories. New to this year's awards is the Contracting Profits Emerging Leader Award, dedicated to a member age 40 or younger making significant contributions to the commercial cleaning industry.
Categories from previous years remain on the docket as well, including the Image Award, Safety Award, Distinguished Service and more. In addition, one outstanding janitor will be honored as Service Employee Of The Year.
No event matches the preparation, speakers and overall education of the Contracting Success Conference when it comes to BSC-specific functions. Vegas offers plenty of risk, but not as much as missing out on the insight other BSCAI members are certain to gain.
previous page of this article:
Annual BSCAI Event Boasts Meaningful Education