Back To Vegas For BSCAI
Annual BSCAI Event Boasts Meaningful Education
---
BY James DeGraff, Associate Editor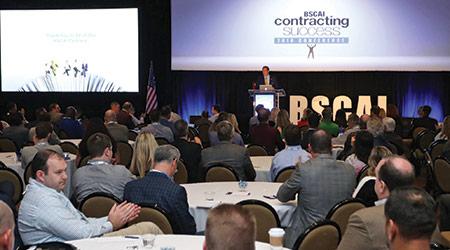 A return to "Sin City" has Building Service Contractors Association International (BSCAI) urging members to "Bet On Their Business" with this year's Contracting Success Conference. Hosted at the familiar confines of the Bellagio and Las Vegas Convention Center Nov. 20 through Nov. 22, the show is BSCAI'S largest annual event for building service contractors.
The conference attracts more than 500 building service contractors and provides ample opportunity for learning and networking. By attending, members can earn credits toward CBSE certification.
As an added benefit, the Contracting Success Conference coincides with the ISSA Show and is being held at the same venue. For just the price of BSCAI's event, attendees receive complimentary access to ISSA's exhibit hall, featuring more than 600 booths.
Education And Keynotes
The Contracting Success Conference is the go-to event for any BSCs seeking business guidance or answers to any industry-based questions. More than 30 seminars will be offered over the course of three days; the majority being "Peer-To-Peer" presentations that will share success stories and cautionary tales from experienced BSCs.
To help attendees get the most out of their week and customize schedules accordingly, conference seminars have been broken into six different tracks: customer service/retention; employee recruitment and training; leadership and strategic management; administration and finance; operations; and marketing/sales. Topics of emphasis include customer perception, employee retention, green cleaning, cash flow management, Internet of Things and cultivating sales.
Michael Diamond, 2019 BSCAI president, CBSE, and managing partner and owner of AffinEco, LLC, says the variety of education tracks reflects the versatility of the convention.
"Within each of those topics, we bring in speakers that can focus their comments toward attendees from emerging, growing or established companies," says Diamond. "The education serves as a powerful tool for members in field management, operations management, finance or ownership."
Kicking off the event on Wednesday, Nov. 20 from 8 a.m. to 4 p.m. is the "Bidding And Estimating Seminar," featuring McLemore Building Maintenance CEO Curtis McLemore and President Steve Shuchat of Clean All Services. Industry newcomers will find exceptional value in this seminar when it comes to determining workplace pricing as a BSC, especially for equipment costs, tax/insurance rates and implementing technology to simplify the process as a whole.
More tenured BSCs looking for alternative insights on Wednesday may be interested in the "Supervision Seminar" from 10 a.m. to 12:30 p.m. Hosted by Franchise Owners Chris Middleton and Jason Courtney of Office Pride Commercial Cleaning, this two-part session starts with the pitfalls of inadequate training, particularly for new hires as they attempt to gain their footing. The second half dives into communication among employees and how establishing techniques can go a long way in reducing lost productivity and preventable setbacks.
"The seminars this year are an expanded version of what's been successful in previous conventions," says Diamond. "We've received requests from members to give longer sessions that dive deeper into the content, so that's what we've brought to the table."
BSCs of all experience will want to catch Thursday's general session, "Industry Labor Trends: Where We're Winning And Losing The Workforce Battle" with Jill Davie, president of TEAM Software and R. Collie King III, CEO and president of Kwantek. Attendees will receive an analytical breakdown on different types of incentive programs and which strategies — when correctly implemented — will pay the most dividends for employee production, morale and retention.
Complementing the variety of both targeted and wide-range seminars are two keynote speakers, starting with Stephen M. R. Covey on Wednesday, Nov. 20 from 4:30 p.m. to 6:30 p.m. Covey is the co-founder of CoveyLink and the FranklinCovey Speed of Trust Practice. He was formerly the CEO of Covey Leadership Center; a company that achieved global prominence during his tenure. His session shares the same title as his New York Times and Wall Street Journal No. 1 bestseller, "The SPEED of Trust," which will dismiss the preconceived notions of trust as a complementary business virtue and instead as the foundation for revenue and lasting success.
"Stephen spoke at our BSCAI CEO Seminar back in January and we felt it was important to bring him back for one of our highest-attending events," says Diamond. "His conversation on trust impacts every aspect of people's lives, from company relationships to customers and personal life. It's worth the price of admission just to see him."
Starting the proceedings on Friday from 8 a.m. to 9:30 am. is the second keynote, featuring certified speaking professional Marilyn Sherman. Her latest book, "Is There A Hole In Your Resume?," is her fourth release of motivational-based publications. Additionally, Sherman has over 22 years of motivational speaking experience, sharing her expertise in the hospitality, government and corporate sector.
"Marilyn came very highly recommended to us," says Diamond. "Over the years, we've always brought a variety of motivational and leadership speakers that can help the skillset of our membership grow. She is another example of the quality of speaker we invite on an annual basis."
Her presentation, "Front-Row Leadership: How Top Performers Never Settle For Balcony Seats," will break down the formula to the highest performing employees, address common obstacles that prevent promising employees from reaching their full potential and the importance of providing consistent motivation to all levels of staff.
next page of this article:
Contracting Success Conference: A Place For BSC's To Network