Outstanding Achievements
BSCAI Names Year's Top New Member, Building Service Employee
---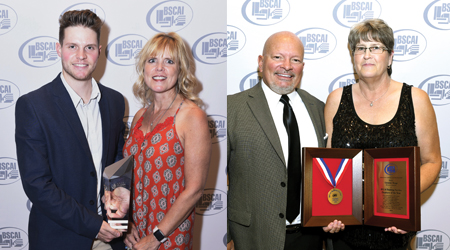 New Member Of The Year Award
This award recognizes a company that joined the association within the last three years and has exhibited active participation in BSCAI through its committee involvement, event attendance, or participation in the certification program. This year's winner is B&T Contractors Inc., Bradford, Pennsylvania.

B&T Contractors Inc. is a family-owned business that services commercial, industrial and educational facilities throughout western and central Pennsylvania and New York. Starting in 1987 with just two people, B&T Contractors has grown into a company with more than 170 employees.

"Members of BSCAI are what drive innovation, create industry standards, and define the fundamentals of the cleaning industry for our employees and our clients," says Carlson. "Every time we add a new company like B&T Contractors to our BSCAI family, we all take one step forward in accomplishing our mission and objectives."

The company joined BSCAI in 2015, and has since taken an active role in the association.

"Since joining BSCAI we've received such great support, met wonderful people and have grown as a company," says Matthew Teribery. "Through the help of BSCAI, we look forward to continuing our growth, both as a company and our involvement with BSCAI."
Building Service Employee Of The Year Award

This award honors the building service contracting employee whose job performance, work ethic, civic involvement and family role best exemplify qualities found in superior janitorial employees. This year's winner is Christine Bragg from FBG Service Corporation, Omaha, Nebraska.

Bragg is a custodian at Taylor Ridge Elementary in Taylor Ridge, Illinois. She has been in the Rockridge School District her entire life — first as a student and then later as a custodian. When FBG became the custodial service provider in 2013, Bragg stayed on because of her loyalty to the building and love for the students.

"I'm so thankful that FBG hired me; I love working with the kids and faculty at Taylor Ridge Elementary," says Bragg. "FBG has been very good to me and I count my blessings all the time."

Bragg is a dedicated employee and a model that managers use to benchmark others. When a problem arises, Bragg is there to help. One winter when the boilers were not working, she assisted in getting space heaters to the classrooms that needed them most.

On top of her every day cleaning duties, she volunteers her time in decorating the building for special events and holidays. When needed, she will supervise the children during lunch or help the kitchen staff with their duties. She also takes time out of her personal life to cook and make crafts for teachers.

"Christine Bragg is an integral part of the Taylor Ridge Grade School team. The principal, teachers, students and coworkers absolutely love her," says Scott Hess, district director for FBG. "Although cleaning is her primary duty, Chris helps the students and staff with myriad tasks."

Her efforts do not go unnoticed. When school faculty learned Bragg was chosen as FBG's Employee of the Year, they designated Feb. 9, 2017, as "Christine Bragg Day." Students and faculty celebrated by wearing maroon shirts with FBG name tags. Several kids even added keys to their belts so they could be more like her.
previous page of this article:
BSCAI Clean Awards Honors Leadership, Distinguished Service
next page of this article:
Community Service, Cleaning For Health Honored By BSCAI
Disclaimer: Please note that Facebook comments are posted through Facebook and cannot be approved, edited or declined by CleanLink.com. The opinions expressed in Facebook comments do not necessarily reflect those of CleanLink.com or its staff. To find out more about Facebook commenting please read the Conversation Guidelines.