Winding Road
An Early Career In Jan/san Distribution
---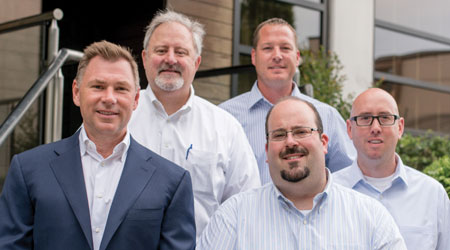 In 1968, Jay Vonachen, who was then running the family distribution business, was convinced by a family friend and business confidant that the future of the cleaning industry was in contracting. Jay either needed to sell to more building service contractors or get the family into the contract cleaning business. He opted for the latter and founded Professional Maintenance. Matt was 4 years old at the time.

The supply company and the service company were always very separate, and it was clear that the family's focus was primarily on the distribution business. So that's where Matt Vonachen spent his time, helping wherever he could as a youth. Then, after graduating with a business and marketing degree from Loras College, he worked for two years in a management training program at American Stores, which operated the well-known Osco Drug and Jewel grocery stores. That then led to a stint in sales for Rubbermaid Commercial Products. In 1993, Jay asked his son to come back to the family distribution business, and the younger Vonachen accepted.

"I thought at that point I was coming back to Peoria to work and learn the business, and eventually be a successor of the [distribution] business," he says.

As Vonachen was beginning to learn, however, circumstances often change. Consolidation began sweeping through the jan/san distribution industry in the late 1990s. Vonachen Industry Supplies was not immune and in 1999 sold to distribution giant AmSan.

"When the opportunity came for the family to sell the business to AmSan, there were many family members involved," says Vonachen. "And the decision to sell to AmSan was in the best interest of the entire family."

That, of course, didn't make Vonachen any less disappointed that his and Jay's succession plan was out the window. Vonachen made the best of the new opportunity, though, and went to work for AmSan.

"There was a thought for a period of time that there'd be a nice career path through AmSan," he says.

For eight years at AmSan, Vonachen learned all he could about the cleaning industry from the distribution side, and about business in general, particularly organizational structure, management, and mergers and acquisitions.

It wasn't long, however, before life threw him another curveball. Vonachen was notified in 2007 that AmSan was purchased by Interline Brands. Although he would stay on for a year to help with the transition, Vonachen immediately knew he wouldn't be staying at AmSan for the long haul.

Over the past decade, he had moved from a family business environment, to a venture capitalist business environment, to a publicly traded business environment.

"I wanted to get back to the privately held, family culture," he says.
previous page of this article:
Matt Vonachen Finds A Home At Family's Contract Cleaning Firm
next page of this article:
Vonachen Services Is Born
Disclaimer: Please note that Facebook comments are posted through Facebook and cannot be approved, edited or declined by CleanLink.com. The opinions expressed in Facebook comments do not necessarily reflect those of CleanLink.com or its staff. To find out more about Facebook commenting please read the Conversation Guidelines.