Winding Road
Vonachen Services Is Born
---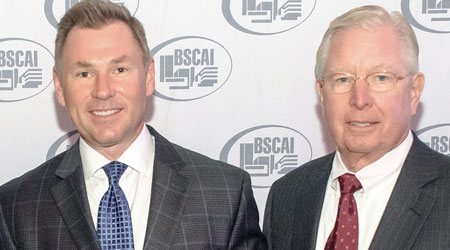 After leaving AmSan, Matt Vonachen had no clear plans to get into the contract cleaning business or take over Professional Maintenance, which the Vonachen family still owned.

"My father said he had this contract cleaning business, and he asked me if I would be interested in taking that over," says Vonachen.

Although Jay had not been actively shopping Professional Maintenance, he had been considering getting out of the game, says Vonachen, especially since Jay had already sold off the family's distribution business.

"I would say there was a lot of soul searching," says Vonachen of the decision to take over the family contract cleaning company.

Vonachen knew that the company culture at Professional Maintenance was what he desired, so he decided to go for it.

In order to ensure that the sale of the company was equitable to both sides, father and son hired a third-party valuator to generate the terms of sale. After selling the company, which was renamed Vonachen Services, Inc., Jay stuck around for some time to help see the company through to its new ownership.

"There seemed to be a long transition period," says Marci Woods, the longtime controller for Vonachen Group and VSI, who has worked for the company for 27 years. "We were notified that Matt is going to be coming over to our business. … It wasn't an overnight process whatsoever. It took time."

That said, Vonachen clearly had a vision for VSI from the start.

"Matt was really good at letting everyone know his future plans," says Woods.

Those plans primarily involved diversifying the company's customer base — which relied heavily on just a couple large industrial customers — by aggressively targeting building service contractors outside of its immediate market for acquisition.

Vonachen's first big move was purchasing DSI, the company previously owned by Gibbons. The Vonachens had known Gibbons for a number of years. Streator lies some 60 miles northeast of Peoria, and through the years, Professional Maintenance and DSI had become "respected competitors," says Gibbons.


Learning On The Fly
The acquisition of DSI worked out beautifully for both parties. This was in part because of the relationship the Vonachens already had with Gibbons. But Gibbons says it is also a credit to Matt Vonachen's management style.

"Of the companies I've seen, family-held businesses taken over by the next generation, 95 percent of the time? Disaster," says Gibbons. "The son isn't the same as the father. He doesn't have the same values. He wants to change everything without even evaluating what's going on before he decides what he wants to change. And Matt is just the opposite."

As such, VSI ended up incorporating a lot of DSI's policies and procedures, says Gibbons.

"As a result of that, the turnover of my key people? Next to nothing for the first five years," he says.

The best piece of business advice Gibbons had ever received was to never hire anybody unless they are smarter than you. He says this was a lesson Vonachen had already learned.

"When I came into it in 2008, I knew nothing about the contract cleaning business," says Vonachen.

He knew the cleaning products from his time on the distribution side of the industry, and he, of course, new how to manage people and run a business. But Vonachen knew very little about cleaning operations.

"Most people that get into this business are operators that started cleaning a couple toilets at a filling station or office somewhere and just grow the business," says Taylor Bruce, another industry mentor and president of IH Services, Greenville, South Carolina. "And then all of the sudden one day they get bigger than they thought they would be."

Vonachen took a different route, as did both Bruce and Gibbons, coming in as executives.

"He built the business through management expertise," says Bruce.
previous page of this article:
An Early Career In Jan/san Distribution
next page of this article:
Learning To Love The Commercial Cleaning Industry
Disclaimer: Please note that Facebook comments are posted through Facebook and cannot be approved, edited or declined by CleanLink.com. The opinions expressed in Facebook comments do not necessarily reflect those of CleanLink.com or its staff. To find out more about Facebook commenting please read the Conversation Guidelines.