Awarding Service
A Cleaning Company That Gives Back
---
BY Jake Meister, Associate Editor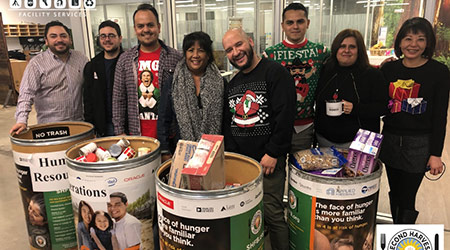 Arthur C. Barraclough Company Community Service Award
The purpose of the Arthur C. Barrclough Company Community Service Award is to recognize companies for their volunteer work for charities and the community. BSCAI will make a cash donation to the charity of the winner's choice. This year's Arthur C. Barraclough Company Community Service Award is Service by Medallion of Mountain View, California.
Volunteering is a major part of Service by Medallion's company culture. Its ownership started a corporate giving program, Medallion Cares, which provides both financial assistance and volunteer support. Through this program, Medallion donates one percent of its gross income to charities or groups devoted to assisting the community.
"As our core value states, "We care and love to serve our community and give back,'" the company said during the award application process.
Service by Medallion has given money or assistance to more than 30 charitable organizations across five categories. One category of charitable organizations involves programs that help young people and adults with developmental disabilities. Another category, health, assists groups like the Morgan Autism Center and the SPCA.
Service By Medallion helps teach kids through the Boy Scouts of America and young adults through Cristo Rey. Service By Medallion supports groups that promote preservation of the planet, as well as sustainable living, like Acterra and the Surfriders Foundation.
Finally, veterans of the military are important to the company. Services By Medallion has given to the Wounded Warrior Project and the Navy Seals Foundation.
"Many of our employees say their favorite days are our volunteer days," said the company. "Our employees feel that not only is the work they do vital to people in need, but it also brings them great joy and fulfillment."
BSCAI New Member of the Year Award
BSCAI presents the New Member of the Year Award to the company who has exhibited active participation in the association through its committee involvement, event attendance, participation in the certification program, regional event attendance and overall positive impact on BSCAI. The winner of this year's award is Simply Right, a commercial cleaning company based in Ogden, Utah.
The engagement of its members is what makes BSCAI so successful, says Greg Buchner, chairman of the award committee. After reviewing the information submitted by the candidates, including attendance records for the past 12 to 24 months, the board felt confident that Simply Right was the right choice to make.
"Their (Simply Right) attendance was just excellent over the past 12 months," says Buchner, who is also the president of CleanOffice, Inc., Chantilly, Virginia.
A number of qualified candidates were up for the award, which gave the committee a beautiful display of association involvement, says Buchner. In the end, he believes it was Simply Right's presence at BSCAI events, as well as their willingness to send a number of staff members to these events, that set the company apart.
Simply Right has been in business for the past 30 years and had always thought of itself as a cleaning company. However, after joining BSCAI, the company and its employees soon realized that Simply Right is part of a much bigger group of building service contractors looking to succeed the best they can, says Craig Poulson, Simply Right's chief information office and chief compliance officer.
"We are honored and humbled to receive the BSCAI New Member of the Year Award. It is a great privilege for our organization to be recognized for our commitment to BSCAI," says Poulson. "Our team has benefited enormously from the classes, speakers and networking opportunities offered by BSCAI. We would like to personally thank Michael Diamond, Todd Hopkins, Eric Luke, Nathalie Doobin, and Jim Harris for their hospitality and warmth. We look forward to a long-term relationship with BSCAI and its members."
previous page of this article:
The People Who Received BSCAI's Highest Honors
next page of this article:
BSCAI Names Its Employee Of The Year
---