Cleaning: Business & Industry
---
Trust Clients, But Document Contract Changes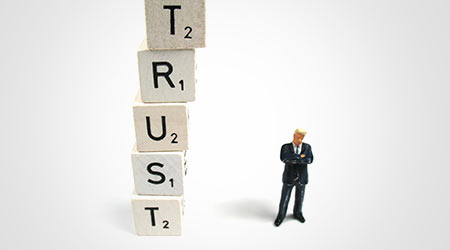 A reader writes: "I manage several properties and believe that trust is essential in working with my vendors. You want everything in writing. What gives?"

I totally agree with you that there must be an earned trust between the cleaning servicing and the managing company. When I use the phrase "earned trust" I simply mean that both sides have to earn and maintain the respect and trust of the other. An example is that if the cleaning service informs you that a floor has been stripped and recoated to the specifications listed in the contract, you should the confidence of knowing that the work has been performed satisfactorily. That means that cleaning service has performed, inspected and approved the work before they notify you that the work has been completed to your specifications. If the work is not satisfactory, then trust can be degraded and even lost rather quickly.

On your side of the relationship, you may have instructed the service not to perform a certain task or replace the labor in performing another task. This can be a dangerous situation since it is not in the specifications and can result in alleged performance issues later on. This is why I like for things to be in writing (email is fine) to document any changes or variations approved by you. If a performance issues arises, the documentation can help clarify what actually happened and make it easier to get back on track.

A professional cleaning service should clearly document what and when they have performed a task. They may want to put in a deadline for you to inspect and respond so that the work is checked in a timely manner. You of course, have the option of inspecting/approving or disapproving in that predetermined time frame. Once the deadline has past, the work will be considered accepted by all parties.

Your comments and feedback are always appreciated. I hope to hear from you soon. Until then, keep it clean...

Mickey Crowe has been involved in the industry for over 35 years. He is a trainer, speaker and consultant. You can reach Mickey at 678-314-2171 or CTCG50@comcast.net.
TIPS SELECTED FOR YOU
---