Cleaning: Infection Control
---
Keeping Your Facility Healthy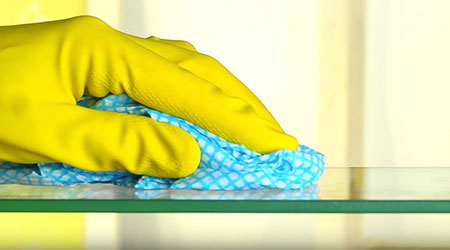 This is the perfect time of year for a fresh start. January was National Staying Healthy Month and a healthy facility can create peace of mind and reduce stress. By maintaining frequencies of vacuuming carpets, dusting and wiping down surfaces regularly, your facility can become a healthier place. Below are some positive effects that you can expect.

The health of building occupants can generously improve when proper cleaning is done in facilities. Bacteria, mold and dust can accumulate throughout the facility and trigger respiratory issues including allergies and asthma. Regular cleaning habits can have a significant effect on health and lower the risk of getting sick. Walking into a clean facility improves a persons mental state. The physical process of cleaning is therapeutic and keeps the body moving, which can provide numerous mental health benefits.

Bugs and pests like warm and damp environments like dusty and cluttered areas in a facility. Frequent cleaning can ward off pests and prevent the type of environment that pests are often drawn to.

Clutter can lead to injuries, prevent efficient air flow and circulation and cause other problems, so keeping facilities clean and organized can improve safety. Piles of clutter can also cause a fire to spread more quickly throughout and even create a barrier between building occupants and a safe location.

Jotham Hatch is the National Training Director for Chem-Dry, a carpet and upholstery cleaning service with a global network spanning 51 countries, serving over 10,000 homes and businesses a day worldwide. He first joined the company in 2003 as an Instructional Designer and has spent more than a decade focusing on training solutions through a variety of mediums including hands-on, face-to-face, on-line and text-based methods. A resident of Utah, Jotham graduated from Utah State University and has additional experience as a small business owner and an account manager.
TIPS SELECTED FOR YOU
---