Cleaning: Cleaners & Disinfectants
Cleaning: Floor Care Equipment
---
Cleaning Procedures And Solutions Following A Flood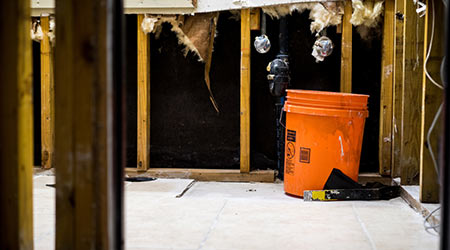 Before cleaning a facility that has been involved in a flood incident, make sure the power has been turned off to the facility. An electrician may need to inspect the building and ensure it is safe before turning on power and beginning work in the building.

From here, you must take the following critical steps.

Debris
First, remove debris. Debris includes such things as waterlogged rugs and carpet, mattresses, and upholstered furniture. Very often, wood, metal, and plastic furniture are salvageable and will just need a good cleaning. If the carpet and padding are removed, place air movers over the flooring under the carpet to help prevent mold growth.

Cleaning Solution
The Centers for Diseases Control and Prevention recommends first cleaning all surfaces with a cleaning solution and warm water. They also suggest then sanitizing surfaces using appropriately diluted chlorine bleach.

While bleach is undoubtedly a very useful cleaning agent, we know it can also be harmful to our health and the environment. An alternative that should be just as effective, and safer for the user and the environment, is a properly diluted, EPA-registered disinfectant.

When using disinfectants, remember it is part of a two-step cleaning procedure. Surfaces must be cleaned first using a phosphate-free, all-purpose cleaning solutions. After that, they must be wiped down again with the disinfectant.

Whichever cleaning solution is used, the areas must be rinsed after cleaning.

Walls
Cleaning and restoring walls can get complicated. In many cases, moisture has found its way behind the wall, which means holes must be cut to help air dry these areas. This is especially true if the walls are insulated.

As to the actual cleaning procedure, remove all wall hangings and other items on the wall. Then clean from the top of the wall to the floor. Change the cleaning cloth or sponge frequently and, as mentioned earlier, use the bleach water or other cleaning solution prudently.

Floors and Subflooring
If the flooring is concrete, stone, quarry tile, or terrazzo, and it survived the storm, all that may be needed is a good cleaning using traditional floor-cleaning products. Remove solid debris before cleaning begins.

However, if it is a wood floor or VCT tile, the floor will likely have to be removed. The subflooring has likely gotten wet, which means it will swell and mold and mildew will develop. In most cases, a flooring professional will need to be called in to deal with this situation.

Ron Segura is president of Segura Associates. His company works with organizations to help them streamline their cleaning and building operations as well as promote sustainability and healthier cleaning strategies so that facilities function more effectively and efficiently and realize cost savings. He can be reached through his company website at http://www.seguraassociates.com.
TIPS SELECTED FOR YOU
---