<< all webcasts | Return to Membership page
Successfully Avoiding Slips, Trips & Falls
To view webcasts you should have flash player 10 or higher. You can find out your version and download an update here.
You must also have Javascript and cookies enabled.
Log In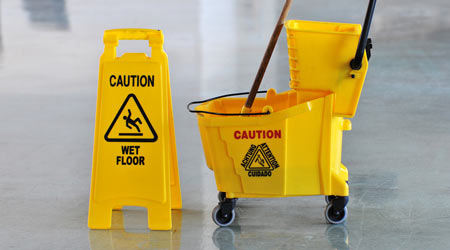 In the workplace, slips trips and falls are second only to motor vehicle accidents as the cause of worker fatalities. This webcast highlights the common causes of slips, trips and falls in commercial buildings, schools and healthcare settings, and discusses key strategies to combat slippery surfaces and the accidents than can result from them.

Attendees will learn about the latest updates on standards such as ANSI B101 that provide technical procedures for walkway audits and the latest information on OSHA standard 29 CFR 1910 that affects walking and working surfaces. Details on how to establish training to reduce the risk of slips, trips and falls, and how to implement an effective floor maintenance program will also be discussed.
---
The participation of our sponsors in this webcast enables us to provide this event free of charge. By reregistering for this event, you approve that we may share your registration information with our sponsors. We do not permit sponsors to use your personally identifiable information without your permission for any purposes other than to send you information about their own products and services.
Other Recent Webcasts
CleanTalk: Technology Advancements
Infection Control: Reviewing Proper Procedures
Cleaning Strategies to Fight COVID-19 and Future Infections
How Cleaning Supports Healthy School Initiatives
Premium: Addressing Vulnerabilities in Your Infection Control Program
How The New Flooring Types Will Impact You
Creating Cleaner Schools
HAIs and the Patient Hot Zone: Combating New Infection Threats in Hospitals
Controlling the Spread of Germs in the Workplace
Successfully Avoiding Slips, Trips & Falls