Educated Dispenser Decisions
Using Data To Determine Dispenser Setups
---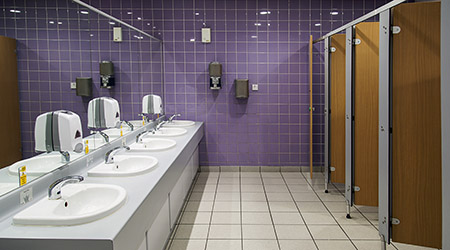 Restrooms have always played an impactful role in any public space. Consider restaurants where a poorly maintained restroom can discourage customers from visiting the establishment again – or giving it a try in the first place. The thought is, "If the restroom is dirty, poorly stocked and neglected, what does that say about the kitchen and the food coming out of it?"
The same holds true for restrooms in all types of facilities. Although tenants and visitors to a building may have less choice about whether to endure or flee, impressions count and can negatively or positively influence occupancy and use. This is particularly the case in today's worried climate where handwashing has taken center stage – soap, paper towel and other dispensers are more critical than ever. Equally important is the message clean restrooms send to users about the facility's concern over their personal health, comfort and well being.
In this effort, it falls on distributors to calculate the best dispenser fit for a facility. Whether manual push/pull, electronic/motion sensor or internet of things (IoT), there's no shortage of options and designs. In some ways, the variety complicates things for distributors, whose recommendations can spell the difference between inviting, functional restrooms or those that come across as somewhat repellent. The right recommendation will determine whether custodial operations run smoothly, are cost-effective and minimize excessive waste or tenant complaints.
"Take, for example, trying to put a folded towel dispenser that holds 400 towels in a restroom at an athletic stadium that sees 500 users an hour," says Eric Cadell, vice president of Dutch Hollow Supplies in Belleville, Illinois. "That dispenser will have to be filled every 20 to 25 minutes in order to keep it full. That would require a restroom attendant in each restroom, which is not economically feasible."
On the other hand, Cadell adds, placing a high-capacity paper towel dispenser in a seldom-used restroom is also not ideal. Although there's less risk of paper towels running out, this ties up products that could be directed to a busier restroom. This also adds to costs as towels in the underused dispenser sit there, while dispensers in more active restrooms go through product more quickly.
Data-Driven Decisions
In order to begin figuring out what dispensers will prove the best match for a facility, distributors must thoroughly investigate the location and ask questions that will narrow down the choices. Consumption data – knowing how much of a product is going to get used and how quickly – is essential, says Cadell, adding that in the absence of hard data, inquiring about the number of occupants in a building can provide a rough idea.
Bill Allen, territory manager for Fagan Sanitary Supply in West Elizabeth, Pennsylvania, likes to walk through the facility, looking at what dispensers are currently in-place and getting a sense about traffic patterns and use. Obtaining honest feedback is important, particularly about what issues the facility operator may be experiencing with their current offerings.
"If someone is asking about dispensers, it is likely because that area of operations has become a concern," says Allen. In addition to involving the facility manager/operator, it is a good idea to get custodial input for frontline expertise and hands-on knowledge. When possible, Allen also likes to include the business manager for cost and budget feedback.
Along with asking about traffic patterns by floor, restroom location and hours of heaviest use, distributors should factor in the size of the labor force, how many people are taking care of the facility and if this staff is overstretched. Waste is another area to explore. Inquire about how many stub rolls are left if the current dispenser is single-use.
Gary Thiakos, president of Zepole Supply Co., Bolingbrook, Illinois, recommends asking facility operators about what is important to them. "Be sure to learn as much about their facility and business as possible," says Thiakos. "We're the ones who are relied on to provide the guidance and the right solutions, and the only way to get there is to explore, listen and learn."
Along with inquiring about concerns, budgets and objectives, Thiakos also questions the facility manager/operator about the importance of sustainability and eco-friendliness to them, as well as the expectations of those who will be using the restroom. This is particularly important since user experience can impact how they regard the facility if expectations go unmet.
next page of this article:
Dispenser Placement, Foot Traffic Pivotal For Setup
Disclaimer: Please note that Facebook comments are posted through Facebook and cannot be approved, edited or declined by CleanLink.com. The opinions expressed in Facebook comments do not necessarily reflect those of CleanLink.com or its staff. To find out more about Facebook commenting please read the Conversation Guidelines.