Case Study
To Rise LLC Maximizes Profitability With Intelligent ERP Forecasting
---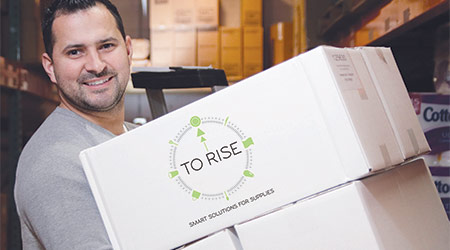 From the beginning, Jorge Salcedo knew that data was one of the most important commodities To Rise LLC — his New York City-based jan/san and paper packaging distribution business — had. Data would not only help identify which products to sell and how much inventory to stock, but it would also provide critical insights for the massive growth To Rise aimed to achieve.
Inventory management was a growing issue, as well.
"Our business model is built on providing a next-day delivery guarantee. This requires us to be on top of our forecasting game, which was challenging due to our limited systems and lack of sales, net profit and tracking margins data," says Salcedo, CEO. "We knew we were making money, but we didn't know if we were losing merchandise, increasing margins or selling more product."
Relying on outdated Excel spreadsheets and QuickBooks to collect and analyze data was no longer effective for To Rise, and significantly hindered their ability to compete against larger distributors.
To Rise decided it was time to capitalize on their data and streamline operations. Unimpressed with the inexperience of small ERP software start-ups, and generic, off-the-shelf solutions offered by larger suppliers, Salcedo was excited to learn about DDI System.
"I spent hours talking to DDI about Inform," says Salcedo. "I had so many questions and DDI answered everything I threw at them, proving they were a company who knew what they were doing."
Leveraging Intuitive Software Functionality
The simplicity of implementing Inform stood out to Salcedo, allowing for an immediate increase in efficiency with the assurance of accurate data.
"I didn't realize we'd see a return on investment so quickly," he says. "Inform has allowed us to maximize everything we do."
Inform's single-screen technology and one-click workflows populate all the customer's account information and history, making it easy to handle sales and accounting tasks. To Rise has reduced its labor force by 56 percent since going live, despite business more than doubling.
"Inform works best when you let it work for you," says Salcedo. "The more data you have, the better decisions you're able to make."
The powerful ERP solution also gave his sales team insights into customer's buying habits, making purchase histories and pricing information available on a single screen. This valuable information allowed To Rise to triple their average customer sale since deployment.
"Inform enables us to look at items we might have lost to a customer because they weren't priced correctly," says Salcedo. "Now that we know, we can correct it."
Since implementation, To Rise has doubled both its margins and sales to effectively compete for business against large national distributors. Salcedo has goals to continue growth and is confident he'll take To Rise to the next level with the insights he gains from Inform.
---