Planning for a Winter Wonderland
Tips and Tricks for Storing and Saving Ice Melt Products
---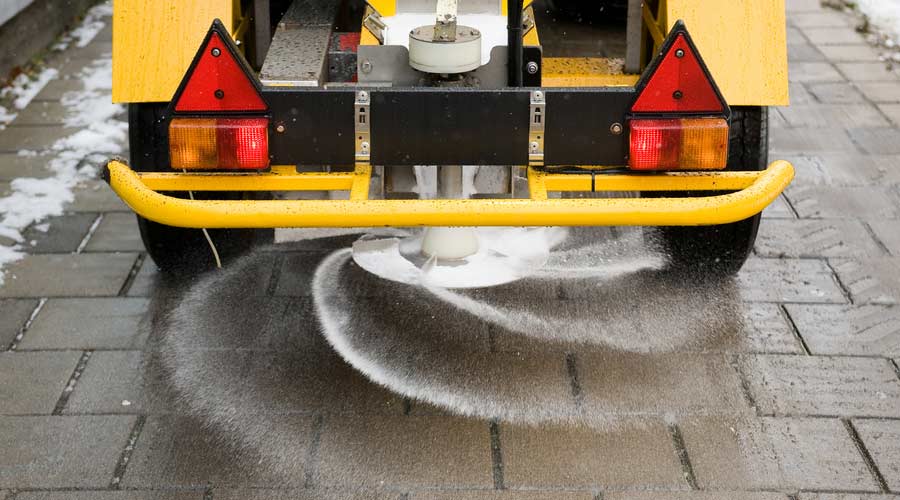 Long before the first snowflakes fall, distributors and their customers begin clearing warehouse space and preparing to place orders for winter storm supplies. While it can be difficult to think about ice melt when temperatures are upward of 90 degrees, summer is the ideal time to calculate inventory needs and preorder product, say suppliers.
"We've had these huge pendulum swings on climate, so anything seems possible," notes Nate Clemmer, CEO, SynaTek Solutions, Souderton, Pennsylvania. "It's not uncommon for certain parts of the country to see snow as early as the second half of October, so it can come upon us fairly quickly."
Glen Huizenga, senior sales leader for Nichols, a division of Imperial Dade in Norton Shores, Michigan, typically works with his ice melt supplier in July or August to determine a pre-season price package. Once he seals the deal, he creates a flyer for his sales team to pre-sell ice melt to customers with delivery slated for late October or early November.
"Some people will bust out the Farmers' Almanac to see what the weather predictions are going to be, but most purchasing decisions are based on what was done historically," says Huizenga.
When it comes to placing orders, suppliers urge distributors to be proactive rather than reactive and — like Huizenga — take advantage of pre-season discount programs. As of mid-July, Mark Ihme, vice president of Morgro Inc., Salt Lake City, had 30 truckloads of ice melt ready for delivery.
"A lot of people wait until it snows and then place their order. By that time, competitors that have ice melt on the ground are already one step ahead," says Ihme. "If distributors aren't prepared, they risk losing customers who will go somewhere else. That opens the door for other distributors to sell them additional supplies."
Predicting the Unpredictable
Severe winter storms can strike at any time, making it difficult to calculate how much ice melt distributors and their customers will need to see them through the season. Short of consulting a crystal ball, suppliers recommend relying on customers' previous purchase orders and leftover stock to calculate how much inventory they will need.
"Take into account what you have for carryover inventory from the previous season, and then look at a five-year historical average," suggests Jason Haskell, national sales manager for Compass Minerals, Overland Park, Kansas. "This should give you a good idea of what to purchase going into the next season."
In addition to verifying leftover inventory, distributors and customers should check that the product is still usable.
"Ice melts that are granular are hydroscopic and can attract moisture," notes Clemmer. "There's a good chance that if it gets really hot and humid, and it's kept outside or in an unconditioned environment, it will harden and may become unsalvageable."
Once distributors have calculated how much ice melt their customers need per weather event, Clemmer recommends purchasing enough at the start of the season to make it through two to three winter storms.
"It would be better to have more ice melt than you need than not have enough," he adds.
On the other hand, some customers prefer to play it safe and may not want to be stuck with excess ice melt, in which case Michelle Brasel, director of sales and marketing, Salt Depot Inc., West Jordan, Utah, advocates bringing in half of their five-year average.
"Some customers don't have the space to store ice melt," she says. "Look at what clients have left over from the year, then look at their five-year average and suggest an order of up to 50 percent. Most vendors offer an early order discount, so customers can take advantage of the reduced price — and there are very few times that you wouldn't be able to sell 50 percent of their average."
Decoding De-icers
While ice melt serves one purpose — to remove snow or ice from a surface — a variety of formulations are available to address varying climates, facilities, environmental concerns and budgets.
According to Huizenga, Nichols stocks four or five different blends of ice melt, but more often than not customers buy on price, with the least-expensive option being rock salt, or sodium chloride.
"The most common ice melt is regular salt, but it only melts to about zero degrees," notes Brasel. "Once you get below zero, almost all ice melts have other ingredients in them. People need to look at their ground and air temperature to determine what kind of ice melt they need."
Haskell recommends rock salt for landscapers or general contractors that need to apply a lot of product across a large area, such as parking lots or sidewalks. For colder temperatures, other chloride ice melt products may be preferable, including magnesium chloride, calcium chloride and potassium chloride. Magnesium chloride and potassium chloride are often blended with sodium chloride and can be less harmful to concrete and vegetation than calcium chloride.
Compass Minerals sells a blended magnesium chloride formulation that melts to minus 10 degrees Fahrenheit and has earned a Safer Choice designation from the U.S. Environmental Protection Agency (EPA). According to Haskell, magnesium blends tend to be safer for pets, concrete and vegetation compared with conventional deicers, when used as directed. Calcium chlorides — although harsher on the environment — melt ice quickly at even lower temperatures, about minus 25 degrees Fahrenheit.
Morgro Chemical offers an alternative to both pure and blended products known as manufactured ice melt in which particles, pellets or granules are coated rather than blended with magnesium chloride, calcium chloride and the company's patented Propolyice. According to Ihme, the formulation improves performance by preventing freeze/thaw damage.
As more companies commit to sustainable practices, suppliers are noticing an uptick in the sale of chloride-free ice melt products. These products are less corrosive and more environmentally friendly than their chloride counterparts, but they come at a price.
SynaTek sells a chloride-free, liquid-based de-icer that is not only safe for the environment but 100 percent residue free.
"When people track salt into the building, it creates a huge mess," says Clemmer. "This product is as clear as water, so it's suitable for high-traffic areas and fancy floors."
Whatever product is used, Brasel sees an opportunity for distributors to sell ice melt in pails or boxes for high-traffic entryways.
"If you sell to property managers, you might want to consider these kinds of products for tenants to use on sidewalks in between public or contracted snow removal services," she says. "Property managers can set the box by the door so the product stays in the box and looks more presentable — and boxes can be customized to advertise the company."
Storage Stipulations
No doubt, ice melt occupies a fair amount of warehouse space. Nevertheless, suppliers say that an enclosed environment is ideal for prolonging the life of the product.
"Like anything, if you store it outside and it's exposed to the elements, it can compromise the product," says Haskell. "Typically, packaged products that are stored inside can last several years."
When indoor storage is not an option, suppliers recommend distributors and their customers cover the product to protect it from the elements.
"As long as you put a tarp on it, it can sit there for months, and you can use it the following year," says Brasel. "If it's been exposed to moisture, it can get hard and chunky, but usually you can break it up by picking up a bag to knee level and dropping it a couple of times."
According to Ihme, Morgro's ice melt can be stored inside or outside.
"The product is on pallets that are covered with a poly cover and shrink-wrapped," he says. "They are also formulated so that they are less sensitive to temperature and moisture."
With such a wide selection of ice melts to choose from, suppliers urge distributors to do their homework and ensure that product claims are validated.
"Understand what you are buying," Brasel advises. "Ask for lab tests, because most reputable companies will be able to produce tests that substantiate their product claims."
Clemmer seconds this advice, with the following caveat: "If a supplier tells you they can't give you data to support their claims because it's a trade secret, that's a warning sign," he says. "Make sure you're asking the right questions and getting validated data. If they're making a claim that turns out to be false, your job or someone's life may depend on it."
Kassandra Kania is a freelance writer based in Charlotte, North Carolina, and is a frequent contributor to Sanitary Maintenance.