Sanitary Maintenance 80th Anniversary Coverage
Throwback to the 1940s: Sanitary Maintenance is Born
---
BY Corinne Zudonyi, Editor-in-Chief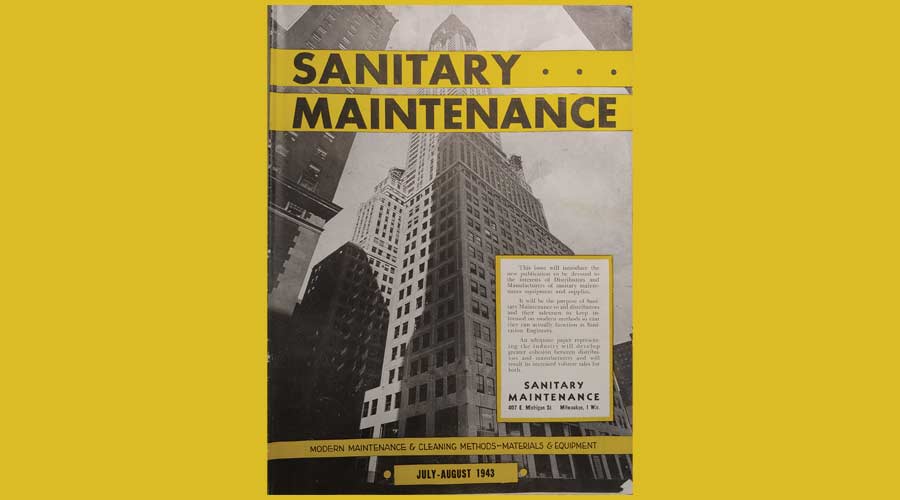 In recognition of the 80th anniversary of Sanitary Maintenance, each issue will explore a different decade and how events during that time shaped the jan/san industry.
1943
• Recognizing the need for a "paper" devoted exclusively to the interests of distributors and manufacturers of sanitary supplies and equipment, Harry Apple, publisher at Milwaukee-based Trade Press Publishing Company, launched Sanitary Maintenance magazine. According to Apple's first editorial, "This paper will be edited for and will circulate to every known distributor selling sanitary supplies...[and will] help train these salesmen so that they can in fact become Sanitation Engineers — men capable of analyzing the needs of their customers, recommending the proper materials and finally training the maintenance supervisor when necessary."
• WWII continued to impact the industry both in personnel and the manufacturing of equipment. Editor Harry Apple wrote, "Your best opportunity to recruit labor will be from the ranks of women, the physically handicapped and finally from labor in the age bracket which normally might be considered too old."
• Tools such as brooms were in short supply as federal orders placed restrictions on the use of wire, twine, broom corn and lumber used in handles. Soap formulations were also adjusted to help stretch supplies. The floor finish industry was especially hard hit when the government reallocated ingredients for their own use, forcing the industry to make do with alternative materials.
1944
• Sanitary Maintenance publishes National Sanitary Supply Association (later renamed International Sanitary Supply Association – ISSA) convention information, living up to its moniker as the "official" publication of the association. Items included a listing of exhibitors, a copy of the convention program and background on the closing banquet speaker, Dr. Preston Bradley.
1945
• "The most important problem confronting the Sanitary Supply Jobbers is manpower." With another draft lingering, industry officials petition the government to declare "jobbers and distributors of sanitary chemicals and janitor supplies" as an "essential" occupation. Those efforts fail, but individual employees were able to defer because their services at home were directly contributing to the war effort and to public health and welfare.
• Later in the year, the war ends and staffing struggles shift as companies explore the legal rights of returning veterans to their former jobs.
1946
• GIs returning home from war seized the opportunity to launch their own distribution businesses in response to a building boom.
• The demand for clean facilities amplifies as men returning from war bring back with them high expectations of sanitation and standards of sanitary maintenance.
1948
• The industry recognizes the 25th anniversary of NSSA with a record-breaking event held in Chicago.
Corinne Zudonyi is the Editor-in-Chief of Sanitary Maintenance and has been in the cleaning industry for 17 years. She also oversees CleanLink.com, Facility Cleaning Decisions magazine and Contracting Profits magazine.
---