Magazine Milestones
The History of Sanitary Maintenance and its Impact on Jan/San
---
BY SM Editorial Staff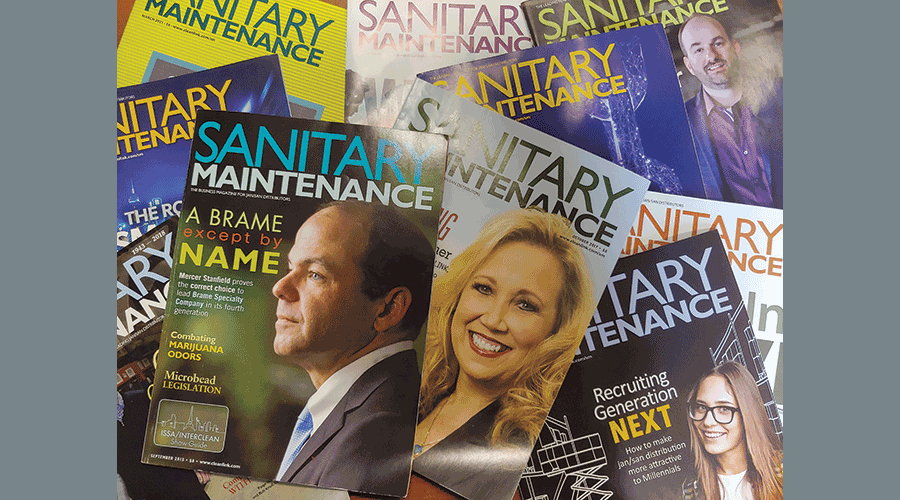 Harry Apple was no stranger to the jan/san industry when he created Sanitary Maintenance in 1943. For 30 years, Trade Press Publishing, the company he founded, had published Brooms, Brushes and Mops, a trade magazine covering a wide variety of cleaning hand tool products.
Early trade publications such as Brooms, Brushes and Mops were tied to a limited product niche. During the early 1940s, however, Apple recognized the important role sanitation was playing in the army camps of World War II, as well as in the hospitals and homes of those back in the United States. He wanted to broaden his reach beyond hand tools, so in 1943, he stopped publishing Brooms, Brushes and Mops and in its place started Sanitary Maintenance, which would cover all manners of products and aspects of the distribution business.
"The purpose of this magazine will be to bring to the attention of distributors the various new products, which from time to time come into the market. It will carry articles explaining how some distributors are doing a particular job better than other distributors...Every phase of your business should be covered in a manner to educate your salesmen," said Apple in his National Sanitary Supply Association (NSSA) secretary address at the 1943 convention.
Distributors were ecstatic to have a resource that would keep them abreast of the entire industry and teach them how to improve their businesses. Early issues covered a variety of pertinent topics, including floor care training, sales management, raw materials in cleaning products and association updates.
"Anyone in the distribution of janitor supplies in the early days was on their own," said John T. Opie of the Opie Brush Co., and NSSA's first president, in a 1967 letter. "The only way one could improve his knowledge was by traveling from city to city calling on different buildings, see what they were using and get their source of supply. These methods were not changed until our first trade journal appeared on the scene — thanks to Harry Apple."
Attendees of the 27th Annual Convention of the National Sanitary Supply Association dine at the traditional closing banquet in 1950.
Rapid Growth
The 1950s were formative years for the jan/san distribution industry with the number of distributors rapidly increasing. By the start of this decade, Sanitary Maintenance readership had grown to 3,295 sanitary supply executives — more than twice the subscribers of the magazine's debut issue.
But it wasn't just the size of the industry that was changing. New product innovations were rapidly entering the marketplace. Sanitary Maintenance switched to a monthly publication schedule to keep up with all the advances and provide distributors the information in a timely matter.
"The remarkable growth of the sanitary supply industry, the rapid changes in products and the frequent introduction of new products compels the alert sanitary supply dealer to keep posted on the market," said Apple in a publisher's statement in February 1950. "Research in maintenance supplies and equipment is making rapid advances. In order to disseminate this information promptly, the industry now needs a monthly publication, and the publishers of Sanitary Maintenance have recognized this need."
A burgeoning industry translated to prosperity for the magazine. Sanitary Maintenance had the resources to create a number of successful "institutions" for the magazine during the 1950s, helping to solidify its importance in the industry.
In 1954, Sanitary Maintenance published the "Floor Maintenance Manual," which, for 25 years, would teach distributors how to sell floor care products, as well as train their customers on proper floor maintenance procedures. The success of this publication lead to an entire issue devoted to floor care in 1956. What was supposed to be a one-time special issue turned into an annual Floor Care Issue for more than 40 years.
To kick off 1957, the publication released its first Buyer's Guide, which soon became the resource for jan/san distributors all year long. Sanitary Maintenance still publishes a Buyer's Guide every March, and despite the immediacy of the internet, most distributors still prefer the print guide to the online version.
Sanitary Maintenance has undergone only a handful of design changes over the years, but each has been the result of the evolution of jan/san distribution.
The very first issue of Sanitary Maintenance featured post-show coverage of the NSSA convention, and ever since then, the magazine provided updates about the association for its readers. Apple always had a close relationship with NSSA, now known as ISSA, dating back to his days as association secretary and the fact that Brooms, Brushes and Mops was named the association's official publication.
That close relationship continued with Sanitary Maintenance and in 1951, the magazine made its biggest contribution by publishing the "Who's Who" exhibitor directory for the NSSA trade show in Cleveland. For the next 30 years, this publication served as the official convention guide. Later in the 1980s, the first Sanitary Maintenance ISSA Convention show guide was produced, once again helping to assist visitors with navigating the expansive trade show floor. This unofficial show coverage is still featured in Sanitary Maintenance today.
The Next Generation
Harry Apple's son Robert joined the company in 1946 as a business manager and, by the mid-1960s, was ready to take over operations from his father. In 1965, Bob Apple was named publisher of Sanitary Maintenance and president of Trade Press Publishing. He was as proud of the magazine's place as the leading publication in the industry as his father was and worked tirelessly to maintain that distinction.
As stricter legislation and new government agencies, such as the Occupational Safety and Health Administration (OSHA) and the Environmental Protection Agency (EPA), began impacting the cleaning industry, Bob Apple made it his mission to keep distributors informed on changes. Throughout the 1970s and '80s, Sanitary Maintenance carried articles focusing on the latest regulations.
Under the direction of the younger Apple, the magazine modernized with more use of color on its covers and inside pages. Bob Apple was also an early adopter of computers. In the early 1970s, Trade Press was one of the first magazine publishers to use a computer database for its Buyer's Guide. Even though it was costly to make the change, it was far more efficient.
In 1973, Bob Wisniewski, fresh out of college, joined Sanitary Maintenance in advertising sales. Under the tutelage of Bob Apple, Wisniewski learned not just the jan/san industry, but the publishing business, as well. By 1988, Bob Apple was ready to retire and agreed to sell Trade Press to Wisniewski and a colleague.
"I feel that Sanitary Maintenance will continue to be a leading publication in the industry under new management," said Bob Apple in his last editorial. "I'm sure the new organization will build new life into the magazine and will lead the industry into new programs and be a beacon to the future."
Like the Apple family before him, Wisniewski ensured that Sanitary Maintenance lived up to the high standards its readers expected. Coverage not only focused on the latest cleaning products, but also major trends affecting distributors. It was common to see articles about the rise of green cleaning and sustainability, industry mergers and acquisitions, the threat of adoption of e-commerce, and navigating a different economy.
The internet would forever alter the way companies navigated their markets. Wisniewski embraced this change head-on and adapted from a print-centric publishing model to one that included a plethora of digital products. To reflect the changing industry, he updated the company name to Trade Press Media Group.
Harry and Bob Apple were both recognized with the Jack D. Ramaley Industry Distinguished Service Award in 1977 and 1989, respectively. Their successor, Bob Wisniewski was recognized in 1992 with the Young Executive Society's Specialty Industry Achievement Award.
Sanitary Maintenance went online in 1997 with the launch of its website CleanLink.com. Following this was a variety of e-newsletters, including the daily CleanLink Insider distributors receive today.
Wisniewski was an innovator who wasn't afraid to try new things. Over a five-year span in the 2000s, he launched a cleaning-specific search engine, a jan/san industry-specific social networking site and two virtual trade shows (20 years before the COVID-19 pandemic made them commonplace).
Continuing the Legacy
After 45 years in the media business — 30 of those as CEO — Wisniewski decided it was time to retire. In 2018, he sold Trade Press Media Group, along with its multiple brands, including Sanitary Maintenance, to FORUM MEDIA GROUP, a family-owned media firm based in Germany.
"FORUM is a company that is known for its excellence, mirroring our own firm's reputation for market leadership and quality," said Wisniewski at the time of the sale.
The changes in ownership have done little to alter the brand. Sanitary Maintenance has remained true to the core values that Harry Apple originally set for it 80 years ago. Maintaining its reputation for honesty and integrity, and working tirelessly to keep up on industry trends, the magazine has held its seat as the leading industry publication for jan/san distributors. Editors, sales representatives and countless support staff are working hard behind the scenes to outline ways to navigate pandemic challenges, supply chain fluctuations, e-commerce threats, labor struggles and more.
To tackle these and other timely topics, Sanitary Maintenance has upped its already impressive online game. Distributors who can't wait for announcements in print can visit CleanLink.com where daily industry news updates began in the early 2010s. That was quickly followed by educational opportunities via CleanLink webcasts, virtual roundtable discussions, and both in-person and virtual CleanLink Summits.
For 80 years, Sanitary Maintenance has been committed to serving jan/san distributors. The original vision of Harry Apple lives on.
Harry Apple was already a fixture in the jan/san industry when he started
Sanitary Maintenance
magazine in 1943.
"Sanitary Maintenance magazine still exists because it has never lost sight of its mission. That mission is to help the jan/san distributor respond to the ever-changing nature of business," said Wisniewski in a 2013 article.