Anything For The Customer
SouthEast LINK Offers As Many Services To Clients As Possible
---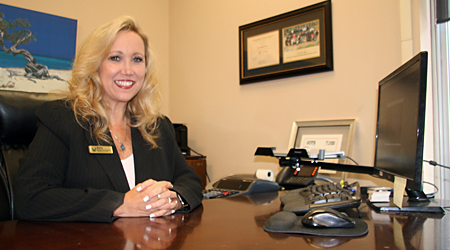 After a rigorous application process and a stint in the "Shark Tank," where she promoted her business in front of Fortune 500 executives, Ailene Grego was finally accepted.

No, she wasn't accepted into an investment partnership with Lori Greiner or Mark Cuban. She had instead earned a spot in the Georgia Mentor-Protégé Connection (GMPC), a business development program under the Georgia Education Foundation, the educational arm of the Georgia Minority Supplier Development Council. But for Grego, who had just recently added the title of CEO to her existing title as president of SouthEast LINK in Atlanta, this opportunity would turn out to be just as transformational as the television show has been for some.

Grego graduated from Georgia State University with a degree in communications and a minor in theater, not the typical route of a future CEO. Couple that with her natural thirst for knowledge and self improvement, and she has always been on the lookout for business education opportunities.

"It's in my nature not to believe that I know everything," she says.

The GMPC matched Grego to an executive at Home Depot, also headquartered in Atlanta, and after a year of group learning sessions and one-on-one meetings, she came to a realization.

"I didn't know as much as I thought I did," she says.

The prestigious program, from which she graduated in 2016, taught her all about corporate structure, how to build her business from the ground up and what it means to be a woman-owned small business. Her biggest take away, however, was, in fact, more of a strong affirmation of a lesson she — and many jan/san distributors — had already learned:

"It's impossible for the small guy like us to compete with the large people like Home Depot/Supply Works or Grainger or Staples," says Grego. "What we have to do is focus on what we all do best, and that is run a service organization where we can utilize our knowledge and our talent to help consult people on the proper way to do things and train them with the proper products equipment and procedures. And that's something that they can't do."

It's not exactly a radical idea. Jan/san distributors across the country have found one way or another to provide value to their customers beyond simply selling products. In fact, some experts have begun to openly question whether distributors are receiving a proper return on investment for all of their services.

But SouthEast LINK differs from many jan/san distributors in that, by strategic choice, it doesn't just offer hands-on frontline janitor training, or janitorial manager education, or an equipment repair and resale center, or workloading assistance, or a full green cleaning implementation plan — it offers all of these services, and it has found a way to turn each into a profit center.

"All of them have been worth it," says Grego.
next page of this article:
Teaching Janitors How To Clean Is A Focal Point
Disclaimer: Please note that Facebook comments are posted through Facebook and cannot be approved, edited or declined by CleanLink.com. The opinions expressed in Facebook comments do not necessarily reflect those of CleanLink.com or its staff. To find out more about Facebook commenting please read the Conversation Guidelines.