Eating Clean
Preventing Infections in Foodservice Areas
---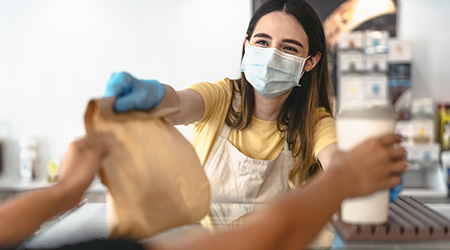 The last couple of years have been a wild ride for the foodservice industry. Rapidly shifting COVID-19 restrictions whiplashed the sector as restaurant owners and managers pivoted from a screeching halt in March 2020 to focusing on take out, curbside delivery and outdoor dining strategies. Today, most restaurants have settled into some form of hybrid operations that include indoor dining, expanded year-round outdoor seating, and a lucrative take-out business.
Institutional foodservice managers — think schools, hospitals, nursing homes, and the like — are facing their own whirlwind of challenges. True; this sector doesn't have to entice customers in, but managers still have to pick their way through the same obstacle course of changing public health guidelines, shortages, rising costs and labor woes.
The hard work is apparently worth it. Food and beverage sales in the restaurant and foodservice industry are up 19.7 percent from 2020, with projections estimated to total $789 billion for 2021, according to the National Restaurant Association.
Also on the uptick: higher expectations around restaurant cleanliness. Though it's always a priority for consumers, concern about foodservice cleanliness and sanitation practices is now consistently at the top of diner's minds, according to a survey by Simon-Kusher & Partners and reported in QSR Magazine. Research shows that customers will even pay a premium — almost twice the price — at restaurants that meet their elevated cleanliness standards.
This revelation presents a two-pronged opportunity for jan/san distributors. From conducting audits, holding trainings, recommending chemicals and supplies, to sourcing the right consumables to satisfy growing take-out demands, distributors are positioned to become even more valuable partners to their foodservice clients.
next page of this article:
Tips for Infection Prevention Success
---