Janitors Need Ergonomics, Not Injuries
Prevent Workplace Injury With Proper Mopping Technique, Tools
---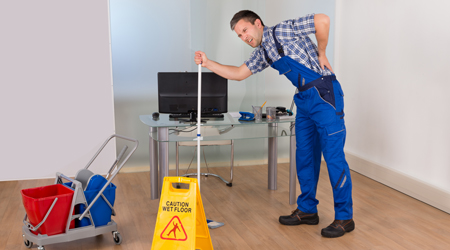 This is part one of a three-part article on preventing injuries while mopping.

Cleaning can be hazardous work. In fact, 20 percent of all on-the-job accidents in the United States happen in just five industries, and janitorial is one of them, according to the Bureau of Labor Statistics.

Of all the tasks janitors perform, mopping is among the most dangerous. It's the second-leading cause of cleaning-related injuries (after trash handling), according to an ergonomics study by the University of California. Mopping is a common cause of repetitive motion injuries, such as carpal tunnel syndrome, tendonitis and back pain.

"Mopping by nature is a laborious task and cleaners need to exert effort to do their job effectively," says Matt Mitchell, senior brand manager for Rubbermaid Commercial Products, Huntersville, North Carolina.

Jan/san distributors can help their customers prevent or reduce mopping-related injuries by selling ergonomic equipment and offering training on safer cleaning techniques.


The Traditional Method
On its own, a standard mop is typically 1 to 2 pounds. Loaded with water and chemicals, however, it can easily triple in weight. In addition, a water-filled bucket can weigh as much as 40 pounds. Lifting and moving all of that weight around a room — day in and day out — can really strain the body.

Poorly fitted equipment further exacerbates ergonomic problems.
"Mops are typically one-size-fits-all, and all employees aren't the same size," says Bill Hemann, vice president of sales and marketing for HOSPECO, Cleveland.

Also contributing to injuries is the mopping process — wringing out a mop head, lifting and carrying a wet mop, lifting and refilling a heavy water bucket, and the repetitive, back-and-forth cleaning motion.

"That's a lot of awkward stressors to put on the body," says Hemann.

It's easy to place the blame for mopping-related injuries squarely on the shoulders of bad equipment or bad procedures. However, truthfully it's typically a little of each combined with inadequate training.

"There's no question about it, people have been injured while using traditional mops," says Mark Julo, vice president of sales and marketing for Golden Star Inc., Overland Park, Kansas. "However, they've also been used without injury all over the world for a very long time. In most cases, it's simply a matter of proper training, following procedures and making the necessary adjustments to accommodate the person using the products."
next page of this article:
Microfiber And Ergonomic Mops Can Reduce Strain
Disclaimer: Please note that Facebook comments are posted through Facebook and cannot be approved, edited or declined by CleanLink.com. The opinions expressed in Facebook comments do not necessarily reflect those of CleanLink.com or its staff. To find out more about Facebook commenting please read the Conversation Guidelines.