The Conductor
Preparing EBP Supply For What's Next
---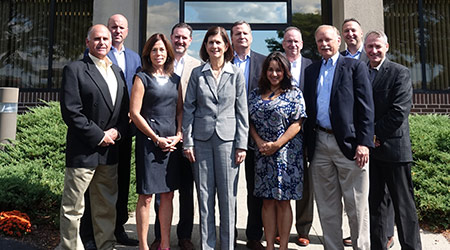 When you ask EBP's current leadership team about qualities that make Meredith such a successful leader, you'll hear words like "engaged," "competitive," "fair," "optimistic" and "humble."
With Meredith as CEO, the organization has experienced substantial growth. Refusing to take all the credit, she points to her team — particularly the contributions of Sugarman, who served as the vice president, then president and finally chairman of Eastern Bag for almost 50 years. Like her father, she believes that you are only as good as your team.
Under Meredith's leadership, Eastern Bag acquired Salem Paper Company, allowing them to grow north into Massachusetts. Its Tewksbury, Massachusetts, branch has subsequently gone through approximately two expansions.
The company also expanded further south into Cranbury, New Jersey, extending its reach to encompass the Mid-Atlantic regions.
All three facilities include space devoted to the EBP Training Academy, housing its growing customer training programs, and janitorial cleaning equipment repair centers.
In 2012, the company shortened its name to EBP Supply Solutions. Although Meredith worried what a name change might do to her parents' and grandparents' legacy, she realized that a brand refresh could enable them to attract new customers — locally and online.
Though the name has changed, the focus has not — EBP remains dedicated to the ever-changing needs of its customers. This not only pays homage to the past, but serves as a strategy to differentiate its business as they move ahead.
"We are consistently looking for new ways to delight our customers in an environment of changing expectations, different buying habits and unlimited information," says Meredith. "We will continue to invest in technology that will remove friction from our customer's experience with us and provide new services to enhance their success."
The next generation is also stepping into leadership roles within the business. Matthew Sugarman, son of Jim Sugarman, successfully grew the New Jersey branch before leading the redistribution segment and eventually being named president in 2018.
"Matthew has demonstrated strategic thinking, emotional intelligence and a wonderful ability to create and lead teams in his 16 years with EBP," says Meredith. "He is certainly deserving of this role as president."
Mentoring The Future
Meredith shows no signs of slowing down. In addition to focusing on succession planning and passion projects, such as the ISSA Hygieia Network (see sidebar), she remains very visible in the day-to-day operations of the business and maintains an open-door policy.
"One of the things that I really appreciate about this business is the culture," says Matthew Sugarman, president. "Though we've gotten much bigger, things still remain very much the same — in a good way. Both Meredith and myself maintain an open door policy. We want everyone to understand that we're all on the same level and working toward a common goal."
It's this connection with people that her team finds to be one of her most inspiring characteristics.
"Meredith treats everyone with consideration, respect and genuine interest," says Allen Wix, vice president of marketing. "She empowers and entrusts her team to make big decisions. She's always looking for what we can do better."
Through her mentorship work, Meredith not only hopes to empower her team, but also others in the industry.
"Women are still very much a minority in leadership positions within this industry, and we should all feel an extra duty to mentor, sponsor and encourage our sisters in the industry," she says. "If we want to improve representation, we have to dedicate the resources and time to help others succeed in their careers."
As Meredith looks to previous generations, finding inspiration in their vision, hustle and determination, she continues to make her own mark in the Baum-family legacy. She remains dedicated to continuous improvement, always identifying innovative ways to drive the business forward. And just like a conductor, she listens and leads, elevating the performances of those around her.
Andi Curry is a freelancer based in Cincinnati.
previous page of this article:
Meredith Reuben Empowers Women
Disclaimer: Please note that Facebook comments are posted through Facebook and cannot be approved, edited or declined by CleanLink.com. The opinions expressed in Facebook comments do not necessarily reflect those of CleanLink.com or its staff. To find out more about Facebook commenting please read the Conversation Guidelines.