Kicking The Bucket
Onboard-Dispensing Mops Reduce Labor Costs
---
BY James DeGraff, Associate Editor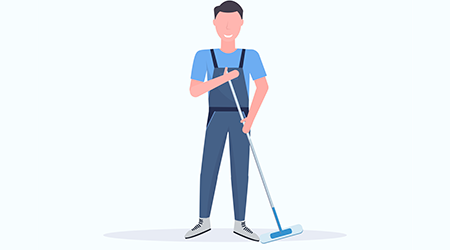 The janitorial industry has long-endured the challenges of high turnover and finding sufficient applicants. When it comes to recruitment, building service contractors and in-house facility managers need every advantage they can find. Among the biggest concerns for candidates or current custodians are the short and long-term physical ramifications of commercial cleaning.

"Many potential employees would rather make coffee or ship boxes for Amazon since there's a lot of injuries that can come with being a custodian," says John Lombardo, vice president of global sales and marketing for Unger Enterprises LLC, Bridgeport, Connecticut. "A lot of it comes down to the physical repetitive stress."

While immediate attention is given to isolated incidents such as slips and falls, many of the worst physical ailments stem from long-term, subtle-yet-harmful cleaning techniques. Occurrences of cold, numbing or tingling hands are often signs of nerve and joint damage over the course of years. One day of poor cleaning form might not throw one's back out, but gradual ligament deterioration is common for custodians accumulating thousands of hours in unnaturally-bent positions. Innovative developments in recent years, however, have steadily improved equipment ergonomics and job simplicity for end users — specifically onboard-dispensing flat mop systems designed to eliminate the need for conventional buckets.
Transitional Considerations
Newer features for onboard-dispensing mops aim to not only improve ergonomics, but also help facilities concerned about being able to provide safer techniques for employees, says Lombardo. Updated grip placements and handle designs are among several new adjustments designed to help custodians self-correct into a proper figure-eight mopping motion that is easier on the wrists and hands.

Telescopic handle adjustment is another popular draw to the onboard setup, with Lombardo noting how slight differences in mop height can make the difference between going home healthy or hurt. With many non-telescopic mops ranging between 48 to 65 inches, users that are too short for the setup tend to hold mops in a way that is uncomfortable on arms and shoulders, while users that are too tall are more prone to back problems.

Factor in that onboard-dispensing flat mop setups can be 70 percent lighter than a lot of conventional string mops once liquid is added, and committing to newer equipment can go a long way with morale, employee retention and preventing liability cases; all factors that are more crucial than ever in a difficult hiring market, says Lombardo.

"The biggest cost is labor when it comes to employees," says Lombardo. "If transitioning to an onboard dispenser saves a company even one workers compensation case — which can scale upwards of $25,000 without factoring in lost work hours and overtime wages for other employees covering the workload — that in and of itself makes it a worthwhile investment."

Bill Bouras, senior director of sales-west for Nexstep Commercial Products, Exclusive Licensee of O-Cedar, Paxton, Illinois, says in-person trials for onboard dispensers have proven successful in getting facilities to adopt the process, notably when collaborating firsthand with distributors.

"I had one case in Northern California working with a distributor who looked after some wineries. Almost every place we went to had a bucket and wringer to mop up messes," says Bouras. "We brought in our all-in-one tool and all it had was water in it, but I would show them how easy it was to clean with it and they placed orders right away."

Complementing the in-person tutorial is an emphasis on the long-term savings potential of flat mops, adds Bouras. Two consistent selling points are the longevity/reusability of flat mop heads and the superior cleaning ability of microfiber compared to traditional string mops.

"Instead of buying mops every quarter or six months, it becomes a year, year and a half when laundered the right way and taken care of," says Bouras. "But more importantly, it's lighter and easier to use which leads to lower labor costs and a better job done overall. Failing to clean the floors properly requires more expensive stripping and refinishing jobs in the long run, whereas scrubbing and recoating takes no time at all."
next page of this article:
There's Still A Place For The Mop And Bucket