Odor Solutions In A Jar
Odor-Absorbing Gel-bead Jars Gain Popularity
---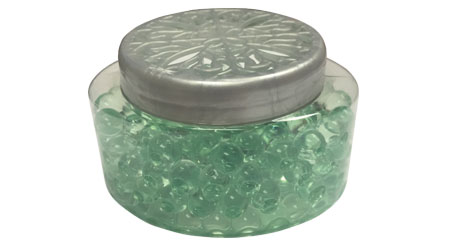 This is part one of a three-part article about odor control jars.

People notice a bad smell. They don't typically notice the absence of a bad smell.

As a result, in many facilities, people may walk right by inconspicuous little containers filled with marble-sized gel beads. People may not even notice that where once there was an odor, now there is not. But those jars are doing yeoman's work, absorbing odors that exist in those work spaces.

And if building patrons haven't taken notice of these little gel-bead jars, jan/san distributors sure have.

Gel-bead odor control jars were previously viewed by many in the cleaning industry as retail items. But today, these jars may represent an untapped corner of the odor control market for distributors for a growing number of reasons.

Safer ingredients: Often, janitors attempt to solve for one problem — an overpowering odor — and unwittingly create another problem, such as an overpowering fragrance that bothers building patrons, says James Smith, executive vice president of HP Products, based in Indianapolis.

HP Products sells a version of these gel-bead odor control jars, which Smith says are meant to serve as replacements to odor control products that may bother people with fragrance sensitivities or asthma.

"It's an effective product," he says. "A lot of those [products] are done with totally natural formulas. What they are looking to do is produce a product that is not going to cause any asthmatic reactions or have any [negative] effect on whoever might be in the room."

Jennifer Rosenberg, president of Acorn Distributors, also based in Indianapolis, agrees that the natural ingredients are a big selling point for the gel-bead odor control jars.

"If somebody eats it, they won't get sick," she says.

Variety of uses: Gel-bead odor control jars could be used in any number of settings, says Smith, but they may be most effective in long-term care facilities, where odor-control is a must, yet facility patrons are often more sensitive to typical odor control solutions.

"We've had some very effective products over the years, however, some people don't react well to them," he says.

Additionally, these jars are specifically manufactured to deal with the types of odors encountered in a long-term care facility, such as human waste, says Smith.

He says distributors may also find success marketing these continuous-release, odor-eliminating jars to lodging facilities such as hotels.

"Since they are a passive system, they are not overpowering," says Smith. "In many cases, too much fragrance places in the mind of the guest that [the facility is] trying to cover up something."

Additionally, Rosenberg says the jars typically offer pretty neutral scents that dissipate fast, giving them a broader appeal to end users.
next page of this article:
Jars Offer Advantages Over Some Odor Removal Products
Disclaimer: Please note that Facebook comments are posted through Facebook and cannot be approved, edited or declined by CleanLink.com. The opinions expressed in Facebook comments do not necessarily reflect those of CleanLink.com or its staff. To find out more about Facebook commenting please read the Conversation Guidelines.