The Changing Law For Changing Tables
New Baby Changing Table Law Presents Sales Opportunities
---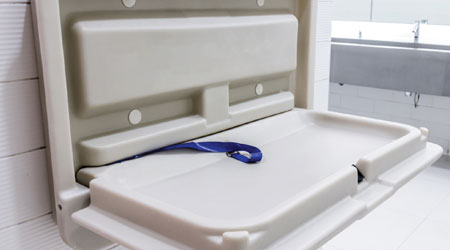 Thanks to a law signed in the fall of last year, jan/san distributors may see expanded business in the restroom market.

The Bathrooms Accessible in Every Situation (BABIES) Act was signed into law on Oct. 7, 2016, by former President Barack Obama. Sponsored by U.S. Rep. David N. Cicilline, the bill requires federal buildings accessible by the general public to have at least one baby changing table available on each floor in both male and female restrooms. Additional signage also is required, informing visitors of where the nearest station is located. According to the law, the General Services Administration (GSA) is required to ensure that changing stations are safe and sanitary.

This presents distributors with an opportunity, not just to sell the actual baby changing tables, but also to upsell customers complete baby changing table systems that achieve the sanitation goal of the GSA. Everything from baby changing station liners to disinfecting wipes come into play for customers servicing qualifying buildings.

"We do try to sell high-quality systems, and certainly we would encourage the same with the [baby changing] stations," says Vince Hernandez, eastern division sales manager for Brame Specialty Company, Wilmington, North Carolina.


Chances To Upsell

The BABIES Act initially affects approximately 14,000 buildings, including congressional offices, Social Security offices, post offices and courthouses.

Restrooms not affected by the new law include:

• Nonpublic restrooms in public buildings;
• Restrooms that include signs that state the location of other restrooms with baby changing stations elsewhere on the same floor;
• Situations in which the construction of a new restroom would be required in order to install the baby changing station, particularly if it requires an "unfeasible" cost to do so;
• Buildings in which any modification requires approval from a Senate or House committee.

"Federal buildings are paid for by taxpayers, and it's important to ensure that they are as open, as accessible and as family-friendly as possible," says Cicilline in a press release. "With this new law now in effect, Social Security offices, Post Office buildings, and courthouses will be more accommodating for working moms and dads … across the country."

Chris Martini of Central Sanitary Supply, Modesto, California, sees the BABIES Act as an opportunity for distributors.

"We do a lot of aftermarket [sales]," Martini says of the baby changing tables. "So, if someone is doing a bathroom remodel, we might get involved."

A lot of initial baby changing table installations take place during the new construction process, so his company isn't always involved. But the BABIES Act opens the potential for new customers.

"You have these restrooms that aren't new construction projects, and as a result of the law, it's coming in on this aftermarket side that affects our industry more," says Martini.

In addition to selling the actual baby changing stations, since the law's passage, Hernandez has focused on providing products to be paired with the stations in an effort to improve the overall client experience. Products such as hand sanitizer dispensers can be mounted on a nearby wall, as can dispensers for baby changing table liners. Customers may also be interested in waste disposal containers to be placed near the changing tables.

"Disinfectant for the stations themselves, but also disinfectant wipes and step-on containers would be a great item [to pair]," says Hernandez. "The law, I believe, specifies [the tables] have to be 'physically safe, sanitary and appropriate.' A lot of the items we sell are restroom supplies, so this really adds along with that."

Baby changing tables may also be a valuable offering because facilities tend to spend a lot of time thinking about how their design aesthetic fits into the restroom, says Martini. For example, facilities often want stainless steel baby changing stations if other restroom fixtures are already stainless steel — and they're often willing to pay for it.
next page of this article:
BABIES Act Gives Distributors A Chance To Show Value