It's Good To Have Options
Keep Customers Happy With Hand Dryer And Paper Towel Choices
---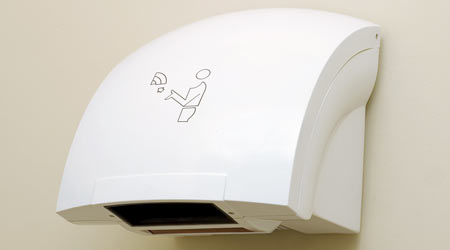 When hand dryers were first introduced decades ago, they were bulky, noisy and pretty ineffective. It's no wonder most facility managers balked at installing them.

Dryers have come a long way since then, and sales of the machines reflect those improvements. Some manufacturers are even reporting double-digit growth in hand dryer sales.

"There's more interest in hand dryers, because they have improved over the last several years," says Linda Silverman, president of Maintex, City of Industry, California. "The old-fashioned dryer took a long time to dry your hands. New high-efficiency, high-speed dryers can dry your hands in 15 seconds. There has been vast improvement in the technology."

Those changes, along with an increased interest in "green" and budget-friendly products, have made hand dryers a more common sight in facilities of all types, especially as facility managers begin to overcome their dated perception of the machines.

"They took forever to dry your hands and they were sloppy, and that left a bad taste in people's mouths about them," says Silverman. "As with a lot of things, however, time and familiarity can make them more popular."


Growing Demand
For now, paper towels still are king. Other than those jan/san distributors that specialize in hand dryers, most will say towels far outsell dryers due to end-user preference.

"Although there are a lot of positives in selling hand dryers, if you serve the general public there's still a lot of resistance to hand dryers," says Silverman. "People want to use hand towels. People tend to be comfortable with what they are used to."

Of course, there's also a more practical reason for towels' pervasiveness — dollars and cents. The bottom line is distributors make far more money from towels than dryers.

"Hand dryers are basically a one-time purchase that may or may not be sourced through jan/san distributors," says Ben Walker, director of business development for ManageMen, Inc., Salt Lake City. "Consumable sales of paper towels, and associated products like liners and collection containers, can be as high as 50 percent of janitorial product purchases, so paper towels constitute on-going sales. And dispensers need to be regularly refilled, which creates a usage and purchasing cycle."

That cycle slowly changes, however, if demand for hand dryers continues to increase.

"There is growing demand for hand dryers because of their benefits, and when there's more demand, distributors will sell them," says Chris Berl, president of Restroom Direct, Mooresville, North Carolina.
next page of this article:
Hand Dryers Can Offer Additional Hand Hygiene, Sustainability, Cost-saving Options
Disclaimer: Please note that Facebook comments are posted through Facebook and cannot be approved, edited or declined by CleanLink.com. The opinions expressed in Facebook comments do not necessarily reflect those of CleanLink.com or its staff. To find out more about Facebook commenting please read the Conversation Guidelines.