Freetime: Love and Wrestling
KSS Enterprises Consultant Motivated By Coaching Son
---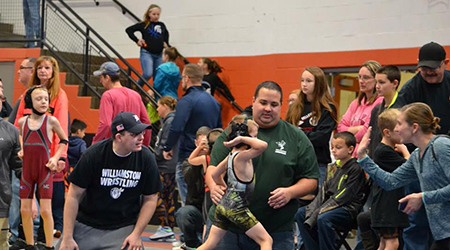 An unconventional way to volunteer as a coach for your kid's sport is to say, "Hi. I'm Derrick Zenker. I'm your new assistant coach because you lost my child."
But that's exactly what Derrick, a facility cleaning consultant for KSS Enterprises in Kalamazoo, Michigan, did. When his son Dylan was four years old, Derrick went looking for a winter activity that would keep Dylan busy. A former high school wrestler himself, Derrick decided to enroll his son in the sport.
"The first night, we were told, 'drop off your son at the school and leave.' So we did," he recalls. "When I went to pick him up, they didn't know where he was. Turns out, he was running around in the high school with more than 3,000 people attending a varsity basketball game."
That's what motivated Derrick to join the coaching staff. Four years later, he's still coaching, and is also a member of the booster club.
During a typical wrestling season — which would run from November through March — there are two weekly practices, along with tournaments on Saturdays. For these tournaments, Derrick leaves the house at 6 a.m. and doesn't get home until around 6 p.m. Despite the long hours, Derrick loves coaching on Saturdays.
"That's where the fun is: the cheering, the hugging and the crying," he says. "I remember Dylan's first tournament win when he was four. He was crying, I was crying, and mom was in the other corner crying."
Derrick really puts his heart into the program. Wherever there's a need, he steps in to fill it. That includes helping families that can't afford the equipment. He's also helping to raise money to remodel the kids' practice facility.
Wrestling is more than just a sport to Derrick. It's about character and good sportsmanship. The kids he coaches aren't allowed to curse and must shake hands with opponents after matches. The parents are also not allowed to berate their kids.
"Wrestling really holds people accountable because there are only two people on the mat," says Derrick. "There are a lot of life lessons to learn, starting with how to deal with defeat and how to rebound. When a kid comes off the mat after a loss, we talk with them about how they could do better, and we watch them improve and win the next time."
Derrick's top reason for staying involved with the wrestling program is the same as it was when he joined: his son.
"I love the time with Dylan — it's a way to have quality time with my son," he says. "And we as coaches see the positive impact we make on the kids. If they come in after having a bad day, they leave with a smile."
---