Host Your Own Trade Show
Jan/san Distributors Can Benefit From Hosting Events
---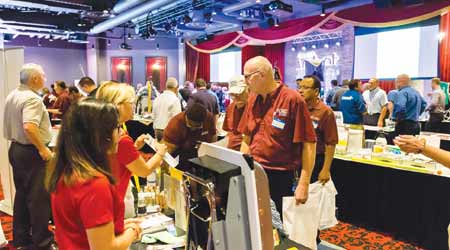 This is part one of a three-part article about distributor trade shows.

Putting on a local trade show in the jan/san industry is advantageous for both distributors and their customers. Events are an effective means to show off new products, and they are hands-on, in-person, educational experiences for the visitors.

In today's fast-paced, always-on-the-go business environment, trade shows are a great way to get in front of customers, to be face to face rather than communicating electronically or by phone.

"It's like one giant sales call, but someone else is doing it for me, so that is a huge benefit right there," says Brian Benson, sales manager, Dawnchem, Willowick, Ohio.

Entertaining customers can go a long way toward establishing goodwill with clients and likely lead to additional product sales.

Although the planning can be fairly involved, the payoff is usually worth the time and cost invested.


Choice Of Venue
Depending upon a distributor's place of business and its capacities, hosting a trade show at its own facility can be quite advantageous.

"We completely tented the back of our facility, and we had about 1,000 guests," says Linda Silverman, president of Maintex, City of Industry, California.

Maintex is both a private label manufacturer and a distributor, and having the trade show on site, complete with a factory tour, provided attendees insight into the whole production process.

"We felt it was important for clients to understand what we do, how we do it and how involved it is," says Silverman. "[A trade show] gives customers a better understanding of who you are and your capabilities, and an opportunity to see the full breadth of the offering you have as a company."

Having a show on site means that distributors are shutting down operations for a day, so it can be disruptive, but the payoff in the long run can make it all worthwhile.

Dawnchem tries to switch it up each year, experimenting with different venues. One year, for example, the show was at the Hard Rock Rocksino in Cleveland, and another year was at the Quicken Loans arena where the Cleveland Cavaliers play.

"We want something that the customers might be interested in and make it worth attending to get out of the office," says Benson.

Philip Rosenau Company in Warminster, Pennsylvania, has changed things up over the years, trimming back to smaller, customer-focused events rather than large-scale shows.

In the past the distributor has held trade shows at a convention center and at a warehouse, but over the past few years, the company opted for a more interesting venue. In 2014, the event was at the Johnsville Centrifuge and Science Museum, and last fall it was held at an antique road racing museum near Philadelphia, a site that was more strategically located toward the center of the company's service area.

"We always try to make it fun for the customer to come to the event, and it is fun for us, too," says Bill McGarvey, director of training and sustainability.
next page of this article:
Planning And Marketing Trade Shows
Disclaimer: Please note that Facebook comments are posted through Facebook and cannot be approved, edited or declined by CleanLink.com. The opinions expressed in Facebook comments do not necessarily reflect those of CleanLink.com or its staff. To find out more about Facebook commenting please read the Conversation Guidelines.
---