Freetime
Jan/San Pro Spends Free Time Volunteering For Vets
---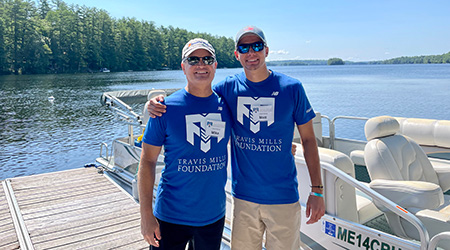 Mike Leemann and his 22-year-old son, Matt, had a summer that they'll remember for years to come. Their adventure brought them to Maine where they spent their vacation helping others in need.
Mike, who lives in Milton, Georgia, is currently the executive vice president for Green Bay Converting, Inc., a position he holds after spending 29 years with Kimberly-Clark Professional. But he took a break from the daily grind to make some amazing memories and provide aid for wounded and disabled veterans and their families on the East Coast. Mike discovered the volunteer opportunity after learning about the Travis Mills Foundation.
Retired United States Army Staff Sergeant and recalibrated warrior Travis Mills is one of only five service members from the wars in Iraq and Afghanistan ever to survive his injuries as a quadruple amputee. His Foundation established a retreat lodge to support recalibrated veterans and their families by helping them overcome obstacles, bond with other veteran families, and provide rest and relaxation.
"I appreciate the kinds of sacrifices that people in the military make for the rest of us," says Mike. "After I read Travis Mill's book, 'Tough as They Come,' I was inspired to reach out to the Foundation and volunteer at the lodge."
Mike admits that he and Matt didn't know what to expect when they arrived at the Foundation's Veterans Retreat in Maine. There were a number of volunteers, but most were local. Mike and his son found lodging about 25 miles away and arranged for their own transportation. Once they were settled, they were ready to help, embraced orientation and were open to do whatever was needed.
"One of the main messages was that we were there to take a back seat to the 'recalibrated' veterans and their families — they wanted us to enjoy our time, but not to be the main focus," says Mike. "It was very clear that they needed our help so we had the mindset that we were going to be busy. They quickly found areas where we could be a support to the staff."
That support started with manual labor. The father/son pair worked in housekeeping to refresh the restrooms. They also cut the lawn and pulled weeds.
"Matt did four hours of weed whacking and he thought it was awesome," Mike recalls. "We even babysat for the kids so the parents could have a date night. We took the kids out to get ice cream, and because I am certified to drive a boat, I drove the pontoon to get there."
The pair also spent time helping in the kitchen, chopping vegetables, serving meals and cleaning up. They even did some baking.
"Matt made chocolate chip cookies and I made cornbread," says Mike. "We were there to serve and that's what we focused on. We were able to keep busy and do meaningful work."
In the five days spent at the Foundation's Veterans Retreat, Mike estimates he and Matt each logged about 45 volunteer hours.
"We felt good about being able to 'give back' in a small way," says Mike. "I think back to those days when I traveled a lot for business. Corporate guys often complain about traveling for their jobs, but then you see what these veterans have done for their country. I felt good about investing the time to volunteer with the Travis Mills Foundation, and I am humbled by the sacrifices these veterans and their families have made. Matt and I loved our experience there, so much so that we plan to go back."