Strategic Sell
How To Use The Sales Transformation Model
---
BY Jim Peduto, Esq., CBSE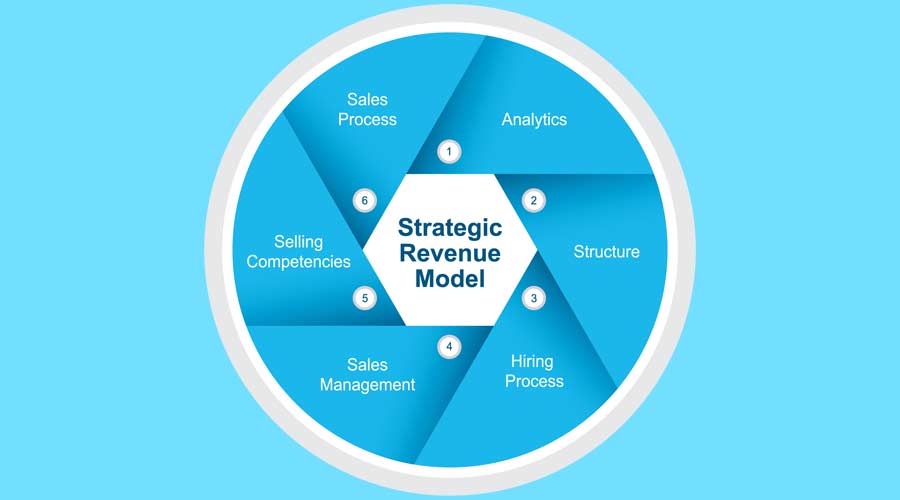 The best CEOs are solid strategic thinkers that implement their vision through strategic planning. Ironically, their approach to revenue generation is rarely as rigorous as their approach to the rest of their business. They accept the same mediocre sales performances year after year.
Let's examine your sales model by answering these four questions. Be brutally honest:
1. Do you consistently deliver year-over-year revenue growth that exceeds GDP plus inflation? Currently, that requires double-digit growth.
2. Is gross margin trending in the right direction?
3. Is EBITDA (Earnings Before Interest, Taxes, Depreciation and Amortization) growing fast enough?
4. Do you have all the sales growth you want?
If you are delighted with your answers, congratulations. If there is room to improve, then consider a more strategic approach.
How Sales Transformation Models Work
A Sales Transformation Model delivers sustainable growth. It replaces the ad hoc tactics with six integrated components:
Analytics: You'll begin the strategic sales transformation process by analyzing your sales capabilities. Initially, you will learn how your sellers and sales leadership stack up against best-in-class and best-of-the-best. From there, you'll see where you have strengths to build on and gaps to close. Your goal is to answer four questions:
1.Can we be more effective?
2. How much more effective can we be?
3. What will it take to accomplish that?
4. How long will it take to accomplish that?
Structure: Your sales organization must be structured to deliver an omnichannel customer experience. An omnichannel approach allows a customer to interact with the business by seamlessly connecting in the way that suits them — e.g., face-to-face, inside sales and e-commerce.
McKinsey's recently released research underscores that B2B customers want the flexibility to choose from and move among face-to-face, inside sales and e-commerce interactions. It's not a one-size-fits-all approach. Your structure will be unique to your business.
Hiring Process: There is no substitute for talent. Developing a sales talent acquisition process is fundamental. Have you regularly added sales talent that is stronger than "A" players? How will you identify the 10 percent of applicants likely to sell your products to your customers in your market successfully?
Sales Management: Strong sales leadership drives success. Equipping your sales leadership with the skills (yes, they are measurable) and ensuring that they spend at least half of their time coaching will profoundly impact sales performance.
Sales Competencies: Customers overwhelmingly want to work with a salesperson who can share insights into their company's problems (94 percent) and a trusted advisor who adds value to their business (79 percent). However, only 15 percent of salespeople are capable of that approach. You must have systems that measure the development of your sales talent.
Sales Process: Sales process is essential. The Sales Management Association's research shows that formal sales process, pipeline management, and training produce a 28 percent improvement in sales revenue. Having a CRM (Customer Relationship Management) platform is not the same as having a sales process. The key to getting a return on investment (ROI) from your CRM platform is focusing on the sales process rather than CRM compliance.
A Sales Transformation Model drives consistency and sustainable revenue growth through an integrated revenue generation process. It's time for sales to join the rest of the company.
Jim Peduto is the Managing Partner and the co-founder of Knowledgeworx, LLC. Owners and CEOs rely on Jim's strategic thinking and transformational growth expertise to win market share and achieve performance gains.