Freetime: Pitmaster Imparts Smoke, Flavor and Life Lessons
How Feeding Friends and Family Nourishes the Soul
---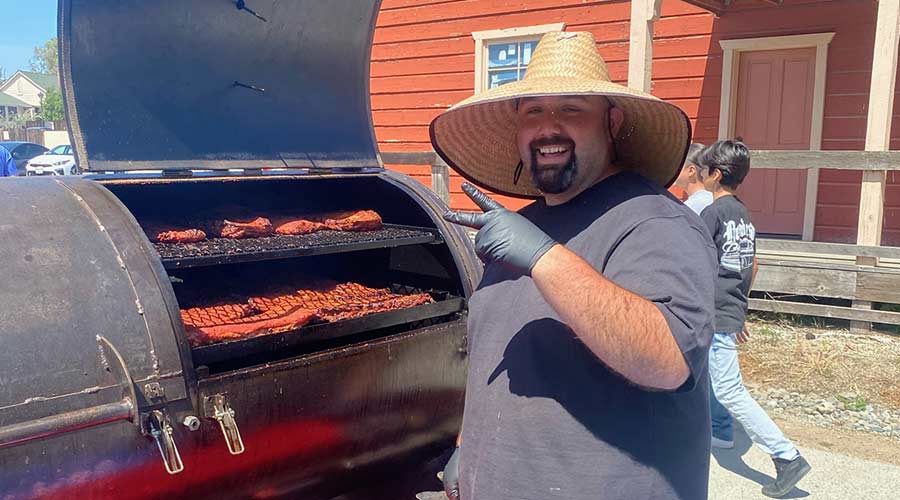 Alonzo Urueta is a barbecue pitmaster — not just a typical backyard barbecue chef. Alonzo cooks 36 racks of ribs or 24 briskets at a time when he's tending to his side business, Valley Sm'Oak BBQ, a family-owned catering business specializing in — that's right — barbecue and smoked foods.
In his day job, Alonzo is an office manager for California Janitorial Supply Corp. of San Jose. Those who work with him at the distributorship might periodically be blessed with leftover barbecue treats that Alonzo brings in after a weekend of cooking and selling at local festivals, cookoffs, and popups at places like the local gas station.
"My father always barbecued for us when we were growing up. Our house was the place all the kids on the block gathered on the weekends. Meat was cheaper back then, so we'd usually feed 15 to 20 kids," says Alonzo. "I started helping my dad with the barbecue when I was 13 by mixing the sauces and seasonings. My first cooker was a metal food-grade 55-gallon barrel. We'd cook and sell barbecue from the house on the weekends — getting the word out on social media. We would always sell out."
What started out as a bonding experience with his father became a beloved hobby. As Alonzo spent more time and money on his passion toward perfection, the owners of California Janitorial Supply suggested he turn that hobby into a side business. In 2019, he did just that, and he got the whole family involved.
"My mom, dad, two brothers and a sister all help. My wife, Jill, runs the show and I do the cooking," says Alonzo. Even his seven-year-old son, Alonzo, Jr., participates.
The cooking is all done strictly using oak wood inside a large custom-made, traveling smoker that Alonzo built himself.
"It all started the day I saw an old horse trailer and a huge propane tank for sale. I offered to buy it for $300, and the lady accepted, put air in the tires, and I drove it away," Alonzo recalls.
His wife wasn't happy about the purchase, seeing only a piece of junk, but Alonzo saw nothing but potential. Over the next two years, he'd teach himself how to weld and craft a cooker that met his exact needs, including height and handle location.
"The main chamber is made from a 420-gallon propane tank, and the small chamber is a re-purposed 250-gallon tank," Alonzo points out. "The paint is a high-temperature-rated automotive paint normally used on exhaust manifolds."
With the equipment he needed on hand, Alonzo went to work, but stresses that Valley Sm'Oak BBQ serves up more than just meat.
"Mom cooks her amazing chili beans, probably 80 pounds at a time. We offer a cheesy cornbread, Mexican street corn in a cup, and a barbecue parfait — which is served in a 32-ounce cup that is layered with macaroni and cheese, chili beans, cornbread and a choice of barbecued meat," Alonzo reports.
Acknowledging that not everyone eats meat — especially in his home state of California — Alonzo also grills a lot of vegetables, including portobello mushrooms.
Customer reviews are overwhelmingly positive, but Alonzo will periodically get questions such as "what temperature do you cook your food to?" and "how do you know it's done?" He says it depends on the meat.
"If it's a larger piece of meat, like brisket, I cook it until it's probe-tender. I use a skewer to test it, and when it feels like butter, with no resistance, it's done," he shares.
Alonzo is proud of everything on his menu but is quick to say his favorite item is the brisket. "I could eat it every day."
Gretchen Roufs, a 25-year janitorial supply industry veteran, owns a marketing and public relations company in San Antonio. To suggest someone you think should be featured in "Freetime," contact her at Gretchen@GretchenRoufs.com.