Freetime
Happy Stetsgiving And Merry Stetsmas
---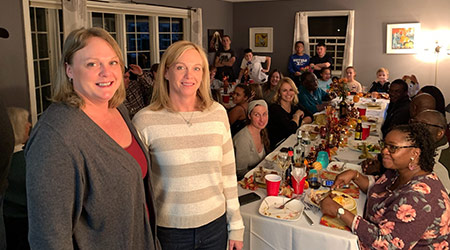 Caryn Stets, chief strategy officer of Chicago-based PortionPac Chemical Corporation, and her family are known to have a good time. In fact, the Stets are so good at enjoying the moments, they celebrate their own unique holidays: "Stetsgiving" and "Stetsmas."
The Stets family created Stetsmas six or seven years ago, along with the event's official logo and must-wear Stetsmas t-shirts. Caryn describes Stetsmas as a "fun, partying kind of event" that lacks the pressure of most traditional holiday gatherings.
"Stetsmas has always been about our immediate family," says Caryn. "It was born from our not being able to get together on Christmas day, so we decided to have 'our holiday, our way.' We generally do it the day after Christmas, and there are about 13 of us."
Forgoing the traditional pressures of a holiday, Stetsmas was a huge success and the family looked for new ways to celebrate friends and family. That's why, three years ago, they invented Stetsgiving.
As you might guess, it is the Stets family version of Thanksgiving and a bit different from the intimate family gathering at Stetsmas. Honoring the reason for the season, the Stets family opens their doors to also include close friends.
"There are over 30 people who participate, including my brother-in-law's friends from Ghana," says Caryn. "Stetsgiving is the more enjoyable celebration. We do it on the Saturday before Thanksgiving, and everybody has it on their calendars as an annual event. I always invite friends from out of town, and the rest are local family and friends."
Caryn and her husband live in Chicago and all of the other Stets family members live in Connecticut. These Stets holidays are a way for the family to have standing dates to celebrate together in Connecticut.
Just as most families have their Thanksgiving traditions, there are, according to Caryn, extremely specific Stetsgiving rituals, including making "Grandpa Jack's Stuffing."
To make it, the Stets family uses a specific brand of bread (almost 10 loaves) that they put through an old-fashioned meat grinder, along with celery, onions and other special ingredients. It's a secret recipe, so don't even bother asking Caryn for it.
In addition to food, friends and family know that any Stets-holiday ritual will feature lots of fun.
"A dance party in the kitchen after dinner is guaranteed," says Caryn. "I remember one of my nieces crying while I was wishing her goodnight because we didn't have the dance party that year."
The Stets family definitely has a knack of figuring out fun, interesting, and unusual things to do. Caryn mentioned their "Weird Hat Game Night," for which you have to wear a weird hat that you actually create. Then there's the Goat-A-Palooza, a nod to their friends from Ghana and an event that draws almost 100 people, as well as fire jugglers. There's also rumored to be a pie-in-the-face game.
"I love the spontaneity of our holidays," says Caryn. "There isn't a long planning process. It all just happens. It is a great opportunity to look at things a different way."
Like everything else this year, there won't be an in-person Stetsgiving or Stetsmas. Plans are to have virtual events in their place. Will the 2020 Stetsgiving include Grandpa Jack's Stuffing?
"We're not sure," says Caryn. "Only one person has the recipe and she won't share it."
---