Strategic Use Of Chemicals
Green-Friendly Infection Control Practices
---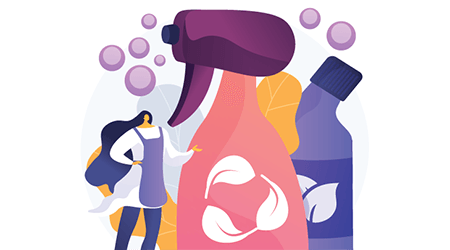 The COVID-19 pandemic has forced a global reckoning of how people live, work, learn and interact. Few could have predicted that, in 2020, the industry would find itself thrust into the center of a global conversation about how to protect the population from a deadly virus. As a result, many distributors have experienced an avalanche of requests for cleaners, disinfecting wipes, disposable gloves and hand sanitizer.
This situation presents an unexpected opportunity to not only help protect people from the COVID-19 virus, but also ensure that customers can make informed choices about the safest and most effective products to purchase. A critical part of this conversation is elevating the role that green cleaning products can serve in protecting health, promoting better indoor air environments and reducing our environmental footprint.
Proper Use
When it comes to the type of disinfectants, there's some good news regarding COVID-19. Coronaviruses are relatively easy to kill on environmental surfaces. The COVID-19 virus is surrounded by a protective lipid envelope, which can be easily broken apart by hand soap, alcohol-based hand sanitizer and many types of disinfectants. Through training, education and proper use of products, this means that end users don't need to turn to hazardous chemicals to effectively clean and disinfect. Instead, it's important to focus on the process.
Distributors know that cleaning products are critical for maintaining healthy conditions in facilities and can play an important role in consumer education. Cleaning always comes first. Using cleaners to remove soil from surfaces enables disinfectants to effectively reach and kill any pathogens left behind.
In most situations, even during this pandemic, disinfectants should only be used strategically on high-touch surfaces. Using more disinfectants doesn't necessarily mean that more viruses will be killed. Emphasizing this message with customers will help them reduce waste, save money and avoid harmful levels of chemical exposure.
To help drive this message home, Green Seal has developed "Guidelines for COVID-19 Cleaning and Disinfecting" for schools and workplaces. The guidelines offer information on the safest and most effective cleaning products and practices to use in the pandemic. Distributors are welcome to provide this free resource to their customers in an effort to help educate them and encourage safer product choices.
Chemical Impacts
Despite the low likelihood of surface-to-person transmission and the relative ease of deactivating the virus, COVID-19 has nonetheless created a worrying trend — excessive exposure to chemical products that can endanger health. To reassure people about the safety of indoor spaces during the pandemic, some end users are turning to unnecessary or even counterproductive cleaning and disinfection methods — a practice termed "hygiene theater."
Customers may be wondering: What are the everyday impacts of using all these chemicals at increased frequency? In fact, cleaning and disinfecting products can present several health and environmental concerns.
Human Health Impacts
Some products contain chemicals associated with eye, skin or respiratory irritation, asthma, and even cancer or reproductive harm. These products may also contain volatile organic compounds (VOCs). Health effects from VOC exposure may include:
Eye, nose and throat irritation
Headaches, loss of coordination and nausea
Damage to liver, kidney and central nervous system
According to the Environmental Protection Agency (EPA), concentrations of many VOCs are up to 10 times higher indoors than outdoors. Excessive use of cleaning and disinfecting products (and more inhalation of these chemicals) may inadvertently create significant health risks for frontline workers and building occupants.
This is an especially grave risk for the 1-in-13 Americans with asthma — a group that the Centers for Disease Control and Prevention (CDC) has identified as high-risk for COVID-19. Choosing safer products that do not contain asthmagens or respiratory irritants is critical for protecting this high-risk group.
Emerging Hazards
The rapid proliferation of new products and technologies amid the pandemic has created additional health concerns. The pandemic has spurred many first-time hand sanitizer producers to enter the market in order to meet this unprecedented demand.
The Food and Drug Administration (FDA) has had to warn consumers to avoid hundreds of hand sanitizers because of high levels of hazardous ingredients, such as methanol (wood alcohol) and 1-propanol. Meanwhile, even when properly formulated, hand sanitizers can include hazardous ingredients linked to cancer, allergies, and skin and eye irritation.
Given the potential negative impacts from increased use of cleaning and disinfecting products, green cleaning has never been more important as end users consider how to maintain safe buildings.
next page of this article:
Selecting Safe COVID-19 Disinfectants