Freetime: Uniting The Industry for Hope
GOJO Industries President Steve Schultz Helps Raise $14.8 Million for City of Hope
---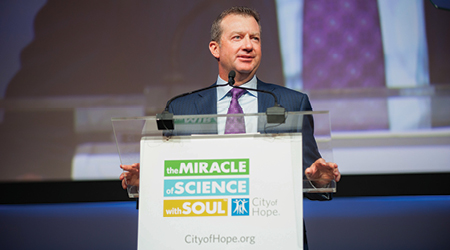 When he's not doing his day job as GOJO Industries' president and COO - North America, Steve Schultz is known for his fundraising prowess and abilities as a golf caddy.
Steve, who was the City of Hope 2017 Spirit of Life honoree, led efforts to raise a record-breaking $14.8 million for City of Hope, an independent research and treatment center for cancer, diabetes and other life-threatening diseases. Located in southern California, its protocols are used to fight diseases in hundreds of clinical collaborations throughout the world.
What matters most to Steve is not the grand total of money raised, but making a difference.
"We can absolutely link the good work that City of Hope does with lives influenced, families influenced, and lives saved," he says.
Steve is moved and motivated by his interactions with patients, caregivers and researchers.
"The researchers put their work above everything else," he says. "They eat and sleep in their labs."
Steve joined the cause 20 years ago as part of the National Office Products Council's effort to support City of Hope. One of Steve's objectives this year was to expand the base of support to include the jan/san industry, and expose people to the work that City of Hope does.
"We took a substantial step forward this year, and it's a tribute to the generosity of our industry. I couldn't be prouder of what we did," says Steve.
"What makes this collaboration special is that it brings competitors, customers, manufacturers, distributors, buying groups and rep groups from across all segments of our industry together to support the City of Hope's efforts. It's a shared honor."
Steve is thrilled with the widespread support for this year's campaign, not just at the national level, but at the local level. There were bake sales, employee giving programs, car washes, food trucks, bikeathons and walkathons across the country in support of the campaign. In addition, 15 sponsored golf outings from around the industry raised an average of $150,000 each.
"We united industries in support of an amazing cause, and we are celebrating the industry's effort vs. an individual effort," says Steve. "I really think the word 'transcend' best describes what happened this year. The goal was to plant the seed to extend the collaboration to a worthwhile cause. It was crawl, walk, run. And we did it."
As for being a golf caddy, at GOJO's sponsored golf outing, Steve's team raffled him off as a caddy to the highest bidder — he will carry two bags for 18 holes — for a future golf game. A customer won the bidding competition for $2,000.
"I couldn't be more thankful for the bid and the donation," says Steve.
---