Delivering The Goods
Freetime: Tom Drupp, Americhem Inc.
---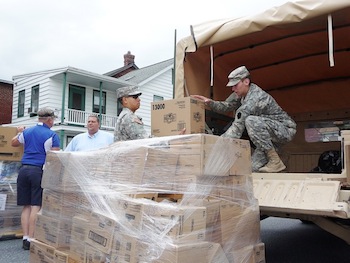 When you're the parents of a soldier stationed overseas, it is likely you send things to your child that remind them of home. Moms send candy bars, homemade brownies, snacks and handmade cards. Dads send more practical things, such as shaving cream, soap and toilet paper. And a dad like Tom Drupp sends, oh, about 4,000 pounds of those practical items.

Tom, an account executive for Americhem, Inc., a jan/san distributor in Middletown, Pa., and his wife Susan, are the parents of Spc. Justin Drupp, a member of the Shillington, Pa.-based 333rd Engineer Company, a U.S. Army Reserves unit stationed in Afghanistan. Justin works on horizontal construction projects (roads, airfields and other big infrastructure efforts).

"We are very proud of Justin, but we don't come from a military family, so it's stressful, too," says Tom.

Justin will be stationed in Afghanistan for close to a year. He enlisted in the Army Reserves for six years, with another four to go.

Sending packages to Justin in Afghanistan is a family affair. Susan sends a box of goodies to Justin every two weeks, and invites other family members and friends to add to the box. Justin's youngest sister Madison, a five-year-old kindergartener, talked to her classmates about her brother serving in Afghanistan. Afterward, every kid in Madison's class sent notes and pictures to Justin.

For the holiday season, Tom arranged for about 4,000 pounds of personal care items to be donated and sent to the 333rd Engineer Company.

"Marc Zimmerman, Americhem's owner, is very supportive of the military," says Tom. "When I asked if our company might assist with an effort to send some things to our troops, Marc quickly agreed. Our drivers and warehouse people helped out, too. Everybody at our company was enthusiastic about it."

Tom received products from Procter and Gamble, Bay West and Deb Group. The deodorant, razors, shaving cream, laundry detergent, hand sanitizer, hand soap, tissues and toilet paper should arrive in Afghanistan in time for the holidays. But it won't be arriving in two nicely packed pallets with a big red bow around them.

"The logistics of something like this are phenomenal," says Tom. "We brought the supplies in pallets to a Lancaster National Guard unit. From there, they went to Reading, Pa., and then on to New York, where they will travel via ship for about seven weeks. The stuff will be going over a (little) bit at a time, because things like water and ammunition take first priority."

Everything is being sent to Afghanistan in care of Spc. Drupp.

"We think he'll be a pretty popular guy when the goods arrive," says Tom. "Whatever he gets from home, he shares. Especially with the guys and gals who don't have family members that send things to them."

Gretchen Roufs, an 18-year janitorial supply industry veteran, owns a marketing and public relations company in San Antonio. To suggest someone you think should be featured in "Freetime," contact her at Gretchen@GretchenRoufs.com.