Surfing The New Jersey Shore
Freetime: Riding The Waves With Sean Wolfson of South Jersey Paper Products
---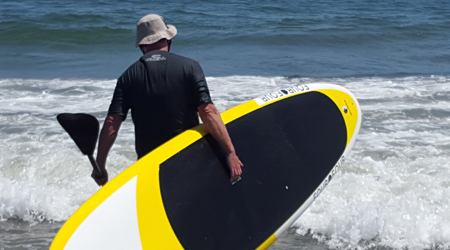 "I would surf every day if I could. Unfortunately, there aren't waves every day," says Sean Wolfson, a salesman with South Jersey Paper Products in Vineland, New Jersey.

Sean, who lives one block from the beach in Ventnor, New Jersey, started surfing 34 years ago as a 13-year-old on a boogie board. A boogie board is a short, light version of a surfboard that one rides in a prone position.

"Back then, parents sent kids to play at the beach all day. That's how I learned. I progressed from the boogie board to standing on a surfboard," says Sean.

Today, he surfs on a fiberglass longboard.

"There is a natural progression," he says. "As a teen I was always on a shortboard, but the older and more out of shape you get, you progress to a longboard."

A few years ago, Sean added paddleboarding in the bay or ocean when the waves are flat. Paddleboarding is a cousin of surfing — the board is bigger and more stable and the person uses a paddle to move.

Though he could surf year-round, for Sean, it's too cold to do so in the winter months. He doesn't like cold water, even with a wetsuit. Surfing for Sean starts around the beginning of June.

"A water temperature of 63 degrees is my go time," he says.

Sean surfs at the Ventnor Pier with his son, his friends or by himself.

By the very nature of the sport, its participants have to watch, wait and make good decisions. A surfer wears a "leash" around one ankle that tethers him to the board. That way if the surfer falls off the board, he just grabs it — it floats — and the waves will take him back to shore. Although things can go wrong while surfing, Sean has only had to get stitches once, when his surfboard flew up and knocked him in the head.

Surfing is not just a sport for young people. As long as someone is in good physical shape, people can learn to surf even when they are 50 or 60 years old.

"It might look difficult, but if you have good balance and a big enough board, it's not that tough," says Sean. "Take your time, practice and be confident. And just don't go out when the waves are too big."

When Sean was in his teens and 20s, he'd surf in any conditions.

"I used to hurricane surf. When the hurricane starts to move out, the waves blow off the shore and they are the best waves," he says.

The biggest waves Sean has ever surfed were about 15 feet high. But now that he's older, he's much more cautious.

"The only time for me that it's scary to surf is if the waves are too big," he says. "These days I surf in waves that I know won't scare me. If the waves are too big, I won't surf. I only go out when I'm comfortable."

Making good decisions like that will help keep Sean surfing for many years to come. In fact, Sean knows guys who are still surfing at age 75.

"As long as I can stand and have the energy to do it, I hope I'll be surfing then, too," he says.


Gretchen Roufs, a 25-year janitorial supply industry veteran, owns a marketing and public relations company in San Antonio. To suggest someone you think should be featured in "Freetime," contact her at Gretchen@GretchenRoufs.com.
Disclaimer: Please note that Facebook comments are posted through Facebook and cannot be approved, edited or declined by CleanLink.com. The opinions expressed in Facebook comments do not necessarily reflect those of CleanLink.com or its staff. To find out more about Facebook commenting please read the Conversation Guidelines.