a lifetime of music
Freetime: Doug Neal, Hillyard
---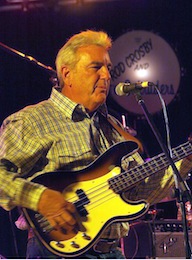 Doug Neal has been playing music professionally for more than 50 years. In his day job, Doug is zone sales manager for the western United States for St. Joseph, Mo.-based Hillyard. But outside of work, his musical gigs include playing bass in a band called PT and the Cruisers, working as a recording studio musician and singing in his church.

Doug, who lives in New Mexico's Mesilla Valley, and four others formed PT and the Cruisers six years ago (the band's name is inspired by lead singer Patty Tiscareño). Their setlist features everything from 1940's standards to bluegrass to country to original songs written by Doug.

"We've all been playing music for 40 or 50 years," he says. "We are best described as a collection of top-shelf aging singers who love what they do. We're all in our 60s and we've all had years of musical experience."
The band plays in restaurant venues around El Paso, Texas, every two months. They perform two-hour dinner shows to sold out crowds.

"Some say it's the best band they ever heard," says Doug.

Besides performing for live audiences, the band has also played for a good cause. Recently, PT and the Cruisers made a record benefiting the Rio Grande Cancer Foundation.

"We recorded songs that people requested in honor of their family members and friends. Each song on the record was dedicated to a cancer survivor or victim. We raised over $45,000 with that record. Right now, we're working on another one called 'Cowboys for Cancer.'"

Doug has played music since he was 13 years old. He was a full-time member of two bands in California (the Bobby Fuller Four and the Randall Fuller Group, both of which were originally from El Paso) until he was drafted into the military.

After serving in the Army, Doug joined the Moon Pie Daince Band, a country rock group that stayed together for 25 years. They toured with some of the greats, including Emmylou Harris, the Nitty Gritty Dirt Band, Ricky Skaggs, Hank Williams, Jr., Arlo Guthrie and the Blues Brothers.

"We were the opening act for around 100 different bands, and we toured all over the world," says Doug.
These days, the Moon Pie Daince Band comes together to play an annual reunion concert in El Paso.

Normally, Doug's music and jan/san professions don't merge — except once.

"We put together a three-piece group and played at a Hillyard meeting awhile back. We played 15 seconds worth of 20 different songs, including 'New York, New York' and 'La Bamba.' We were called the 'Hill-Tones' (inspired by Hillyard's Super Hil-Tone product)."

Doug was quick to mention there wouldn't be a Hill-Tones reunion.