A Match Made In Jan/san
Freetime: Children Of Jan/san Industry Leaders Stahurski And Senour Tie The Knot
---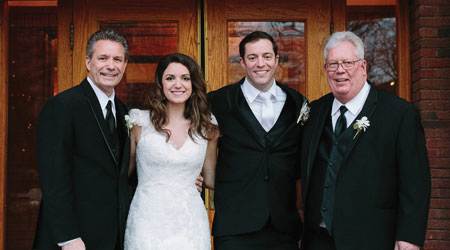 Even after 17 years of writing this column, I continue to be impressed with the strong relationships in this industry. It's lovely to see that sometimes those relationships even lead to marriage.

Marty Senour and Sarah Stahurski met in September 2011 at an industry open house in Milwaukee and ran into each other a month later at the Young Executives Society event during the ISSA/INTERCLEAN show in Las Vegas. They started dating when they got back to Chicago.

When the couple met, they were both working for their family businesses. Marty continues to do so as vice president of sales for Pinnacle Sales & Marketing, Inc., a manufacturer's rep firm in Arlington Heights, Illinois. Marty's father Bob is the company president. Sarah worked for Nyco Products Company, a chemical manufacturer in Countryside, Illinois, at the time, though now she works in the advertising industry. Sarah's dad, Bob Stahurski, is Nyco's president/CEO.

"The Bobs" (which is what Sarah's and Marty's friends fondly call the dads) have been friends for more than 35 years. Pinnacle Sales & Marketing represents Nyco Products.

"It's nice that Marty has the advantage of having both of our dads from two different sides of the industry as mentors," says Sarah.

Marty and Sarah kept their dating under wraps until they made sure that their relationship was going somewhere, and then they told their families and colleagues.

"We are really fortunate that our families have known each other for a long time," says Sarah. "They are very supportive, and embraced us and encouraged us, as did our coworkers and industry colleagues."

The couple got engaged in 2016. Before proposing, Marty asked Sarah's dad for her hand in marriage.

"I asked Bob to meet with me under the guise of discussing some product ideas," says Marty. "We met at his favorite place for lunch, so I knew he couldn't say, 'No.'" (Marty noted that he did not submit the meal as a business expense.)

Their proposal was very private — just the two lovebirds, for which Marty had prepared a speech and arranged for a lot of candlelight. But family and friends were in on the surprise. The couple was married on Feb. 11, 2017, in Chicago. It was probably the only wedding reception that had hand soap labeled with "Sarah and Marty."

"It was a great day for all of us," says Bob Stahurski.

Coincidentally, Marty is the second generation Senour to meet his bride in the jan/san industry: Marty's mother Nita used to sell advertising for Sanitary Maintenance and other Trade Press Media Group publications.

"I was a brand new manufacturer's rep when Nita and I met at an industry event in the late 1970s," says Bob Senour. "We had our first date in June 1981, got engaged on July 4, and married in October that same year. At the same time, Nita was calling on Bob Stahurski, who was buying ad space for Nyco."

Gretchen Roufs, a 25-year janitorial supply industry veteran, owns a marketing and public relations company in San Antonio. To suggest someone you think should be featured in "Freetime," contact her at Gretchen@GretchenRoufs.com.
Disclaimer: Please note that Facebook comments are posted through Facebook and cannot be approved, edited or declined by CleanLink.com. The opinions expressed in Facebook comments do not necessarily reflect those of CleanLink.com or its staff. To find out more about Facebook commenting please read the Conversation Guidelines.