Freetime
Fly Fishing Alleviates Pandemic Stress
---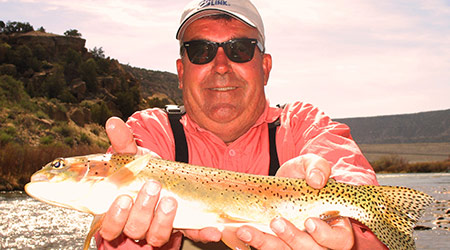 While there isn't much freetime during this pandemic because this industry is busier than ever, everyone needs an escape from it all. Ideally, a healthy, socially-distanced outdoor escape.
Brian Slack has the perfect solution: fly fishing. You can do it by yourself, it's outdoors, social distancing is the norm, and all you need is a cold-water stream, a rod, a reel and some flies.
Brian, CEO and president of Pro-Link, a national janitorial supply organization, lives in Atlanta.
"I have a fishery in my backyard on the nation's southernmost trout stream," he says. "The Buford Dam was built in 1957 to dam up Lake Lanier. That made the Chattahoochee a trout river. It's 700 feet deep, the water is in the high 40s, and it stays cold enough to hold trout."
Where and how you fly fish depends on where you're located. Brian shares that in the eastern part of the U.S., fly fishing is more difficult and more tactical.
"The fish are wary and they can see you. You must be stealthier and you typically fish on foot while wading in the water," says Brian. "In the western part of the country, you fish from drift boats. There are no motors — the boat is powered by a guide who sits low and uses oars. Because the bodies of water are bigger than in the east, the fish don't see you."
Brian started fly fishing in 1995 when he got a call from a buddy asking him to tag along. He was instantly drawn to the activity and finds it to be a great stress reliever.
The sport requires you to use a "fly," a lure that mimics the live food that fish eat. The fly's various materials — feathers, fur, thread — are tied to the fishhook.
"Some people really like the art of tying flies. The patterns can be very intricate and it's a relaxing way to spend some time," says Brian. "I went to a trade show in Chicago in January 1997 and brought my tying tools with me because I knew it was too cold to go outside at night. In four nights, I cranked out about 400 flies. I still have about two dozen left."
Initially he thought he'd tie his own flies to save money, but it was just the opposite.
"By the time I bought the supplies for the flies and the special tools, my fly-tying breakeven point was at about $550," he says.
Brian says he likes to call fly fishing "the ultimate practical joke" because "you tie a bunch of dead animal and bird parts on a hook to simulate a 'natural' fly."
While Brian will eat trout in restaurants, he releases the ones he catches.
"The great thing about trout fishing is that for most people, it's all about catch-and-release," he says. "The trout always live another day."
Gretchen Roufs, a 25-year janitorial supply industry veteran, owns a marketing and public relations company in San Antonio. To suggest someone you think should be featured in "Freetime," contact her at Gretchen@GretchenRoufs.com.
Disclaimer: Please note that Facebook comments are posted through Facebook and cannot be approved, edited or declined by CleanLink.com. The opinions expressed in Facebook comments do not necessarily reflect those of CleanLink.com or its staff. To find out more about Facebook commenting please read the Conversation Guidelines.