Case Study
Floor Solution Saves Labor Dollars And Renovation Downtime
---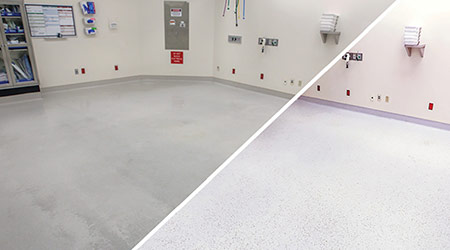 Resilient floors tend to be the floor surface of choice for most healthcare facilities. The easy-to-maintain surface meets stringent healthcare codes and can handle dirt, spills, equipment and constant cleaning. When it comes time to renovate or replace resilient floors, time and safety are a top priority. Operating or patient room downtime is not only costly, it also adds an extra layer of stress to the hospital's daily patient care routine.
At Centennial Hills Hospital in Las Vegas, the 500-square-foot sheet vinyl labor and delivery room floor needed a major renovation. Because of continuous cleaning and use of antibacterial chemicals, the floor became slippery, resulting in a number of employee falls and injuries. The administration considered replacing the floor, which meant the room would be out of use for at least two days. They sought a better solution that could offer the same floor renovation result, but with less downtime and expense.
Teaming up with Brady Industries, Las Vegas, and Bona US, Englewood, Colorado, Centennial Hills Hospital was offered a faster, more sustainable floor renovation system. Bona introduced its Bona Commercial System Resilient Floor Renovation Solution, a simple, easy-to-follow process to renovate resilient floors in less than half the time it would take to replace the floor, with minimal disturbance to the facility.
"Bona's resilient products have been a great addition to our product offering," says Taylor Weston, sales representative with Brady Industries. "It is simple, versatile and durable, and allows us to provide solutions in areas where we previously could not otherwise. It's extremely user-friendly and with its many color and color chips combinations, it allows us to customize both look and function in a variety of applications for our customers."
By using the Bona Commercial System Resilient Floor Renovation Solution, Centennial Hills Hospital realized the following benefits:
Minimal Downtime — The hospital staff was able to get back in the room within 18 hours — much quicker than the originally expected timeframe of three days. This minimal downtime meant an exponential financial gain for the hospital with more flexibility to treat patients.
Beautiful Appearance — The Bona Commercial System Resilient Floor Renovation Solution offers a wide range of styles with seven base colors and 15 color chip options. Rather than ripping out the old floor, the system works with the existing surface to transform the appearance.
Safer for Employees — The durable and slip-resistant floor has made the room safer for employees. The medical team was able to tell a difference in the grip of the floor immediately and are safer walking on it during surgery when liquids and chemicals are present.
Cost Savings — Rather than 72 hours to replace the floor, the Bona process took five hours of labor. The solution had the operating room ready for use in 18 hours. Downtime in an operating room would have been thousands of dollars per day. Centennial Hills Hospital will realize significant product and labor savings in the future by not having to strip or polish the floor ever again.
Disclaimer: Please note that Facebook comments are posted through Facebook and cannot be approved, edited or declined by CleanLink.com. The opinions expressed in Facebook comments do not necessarily reflect those of CleanLink.com or its staff. To find out more about Facebook commenting please read the Conversation Guidelines.