Data Dealers
Finding Partners In The IoT Supply Chain
---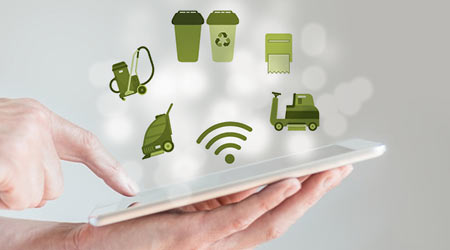 The most tech-savvy distributors first began taking note of the cleaning industry's IoT offerings around the 2015 ISSA/INTERCLEAN show in Las Vegas. Manufacturers gave hypotheticals of how the technology could benefit end users, and distributors began to wonder how they fit into the equation.

Answers were difficult to come by.

"I think in the earliest phases of this launch, the manufacturers needed to be under wraps and needed to get intense customer feedback in a confidential way," says Andrew Reuben, vice president of marketing for EBP Supply Solutions, Milford, Connecticut. "So I think that's why [distributors] were not involved in some of those very early discussions."

More than a year later, that has changed.

"Most manufacturers will take whatever channel they feel facilitates moving this stuff ahead. … If they have a good competent distributor, I think they'll do that. If they don't, then they'll do the best they can on their own and circumvent the distributor," says Louie Davis, business development manager for Central Paper Company, Birmingham, Alabama.

He does believe, however, that IoT manufacturers prefer to find a good distribution partner.

"Because the logistics of it make sense, the support level makes sense," says Davis. "I think historically manufacturers are set up to go through distribution. And I think that model still works."

Where it might not have been the case roughly a year ago, there's now plenty of space for jan/san distributors to sell IoT products to their customers, says Reuben.

"As the offering comes to market," he says, "and they come out of 'alpha phase,' and into 'beta' and potentially to the larger market, our manufacturers are looking to distributors, or a select group, to bring this to market and be the horse to ride."

The takeaway from both Reuben and Davis' comments should be clear: As most in the industry expected, manufacturers of IoT-enabled cleaning equipment are carefully selecting their distribution partners.

Previously, manufacturers emphasized that they were looking for distributors that were typically ahead of the technology curve. Vendors wanted to be certain their distributor partners knew how to handle this new technology as its possibilities continued to unfold.

That is still the case today, and there are definitely some distributors that may not be ready to sell IoT, says Davis.

But, as the IoT cleaning market matures, for distributors that are ready to take the plunge, they too are carefully selecting their business partners.

Today, distributors are looking for vendors who have given some thought to the looming questions created by this new frontier of connected devices and Big Data.
previous page of this article:
Evaluating The Jan/san Distributor's Role Within IoT
next page of this article:
Sharing IoT Data
---