Guiding The Floors
Education On Mopping Ergonomics
---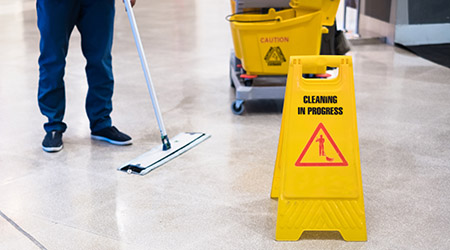 Using brooms, buckets and mops may feel intuitive, but there is a lot more to these custodial staples than just grabbing a tool and getting to work. Using these technologies incorrectly can lead to a variety of problems — from poor cleaning outcomes to musculoskeletal injuries to dangerous outbreaks caused by cross-contamination.
Distributors have been taking the time to educate and train customers on the safest, most efficient ways to use brooms, buckets and mops. Here's a handy primer on why ergonomic choices are worth the investment, the difference between cotton and microfiber, and why red-handled tools should never be used in the kitchen.
Encouraging Ergonomics
Ergonomic equipment is designed for efficiency, comfort and ease of use. The concept has been around since humans first picked up tools, but the idea of ergonomics — at least as an efficiency booster — really took off in the factories of the 1900s. Since then, the concept has grown to include worker safety and comfort. Now, though, the term has exploded to the point of dilution.
"The word 'ergonomic' gets tossed around so much that it starts losing its meaning," says Keith Schneringer, director of channel marketing and sustainability at Waxie Sanitary Supply, San Diego.
But when it comes to mops, buckets and brooms, there are ergonomic improvements designed to create efficiencies while optimizing human well-being. An aluminum handle, for instance, is much lighter and easier to use than a wooden version. Swap in a telescoping handle and that mop or broom now adjusts to better fit individual cleaners no matter their height. These simple changes encourage proper form. Workers can now mop more closely to the body in a figure eight motion to avoid back, neck and arm strain.
Add an onboard dispensing system to that mop handle and the work gets even easier and more efficient. It might be a surprise to learn that the onboard dispensing system is lighter than a conventional cotton mop that's been fully loaded with water and cleaning chemicals. The cleaning fluid is always fresh, and the mop handle distributes a smaller amount of liquid, helping floors dry faster. While not appropriate for a big mopping job like a gymnasium floor, the tool is very effective in smaller spaces. It may also be a good choice for applying floor finish, as it now lays an even coat of chemical that dries quickly.
Buckets have also seen their share of ergonomic improvements. Raising buckets off the ground means less bending and fewer opportunities for injury. Adding strainers that remove dirt leads to fewer chemical changes, speeding up the mopping process. Ergonomically designed buckets are also easier to move around and are better balanced to avoid tipping or sloshing liquid all over the floor. These upgrades translate into fewer opportunities for muscle strains and slip-and-fall accidents.
Ergonomic tools often come with a higher price tag than conventional choices, but not by much. "The difference is pennies or just a few dollars," says Schneringer. "But they bring better value over the long term."
Linda Silverman, president of Maintex, Los Angeles, agrees that these technologies are worth the extra expense over their lifespan.
"There's a difference between price and cost," she says, noting that a higher initial price will cost less in the long run due to creating a safer environment. "This leads to a more content workforce that experiences less fatigue and needs less time off."
The investment may help prevent expensive worker's compensation cases and improve worker morale. These steps can also help retain employees and cut down on the expense of finding and training new hires.
Aside from cost savings and work efficiencies, Allen Jerkins, sales development and training manager for Imperial Dade, Jersey City, New Jersey, argues that employee wellbeing should be everyone's top concern, particularly as the industry focuses on cleaning for safety in the middle of a pandemic.
"Our custodial staffs have encountered so much over the last year and a half on the frontline," he says. "Investing in ergonomic tools helps mitigate the risks this group encounters every day.
next page of this article:
Choosing Between Cotton And Microfiber Mops