Predicting Ice Melt Sales After A Mild Winter
Distributors Need Long Memories When Ordering Ice Melt
---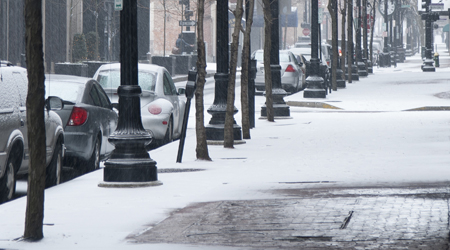 This is part one of a three-part article about ice melt sales.

Even though it's late summer and most of the country is locked in heat and humidity, distributors should be thinking about ice melt. This is the time to plan and order so that manufacturers can meet demand when the snow actually starts falling.

Distributors should be talking to customers about what they will need for the coming winter. Unfortunately, this year ice melt may not seem as urgent as it has in years past. Last year's El Niño gave much of the country a pass. Just because last winter was mild, however, doesn't mean this year will be. The one thing that the weather experts seem to agree on is that there's no way to know what this winter will bring.

According to Brad Pugh, a meteorologist with the Climate Prediction Center of the National Oceanic and Atmospheric Administration, the seasonal outlook is still murky in most parts of the country. The team at the Climate Prediction Center looks at factors that include sea surface temperatures to make long-range weather predictions.

"The strongest signal is for the Southwest to be above normal for temperatures; along with that, there is an increased chance for lower than normal precipitation in the same area," says Pugh. "There may be a slight tilt down in temperatures for the Northern Plains and Upper Mississippi Valley, and there's not a strong signal for the Northeast at all. There's an equal chance of temperatures being higher, lower or the same as last year."

With unclear predictions, the keys to ice melt sales this year will be reminding customers to look at historical usage rather than just one year, restating the importance of a quality product, and staying flexible enough to meet demand if and when the cold does hit in a dramatic way. Distributor sales reps should do their best to prepare customers for the worst, while remaining ready if they underestimated what they would need. After all, no two years are ever the same in the ice melt business.


Estimating Customer Needs
After a mild winter, it's important that distributors train their sales forces to crunch the numbers with their customers. It is imperative that end users understand that they cannot just short order this year because last year was mild. Sales staffs should help them look at their orders from the past three to 10 years to get an average that will give customers an idea of what they need. However, it's never going to be an exact science.

"That's the million dollar question," says Rick Jensen, vice president of sales, Morgro Chemical Company, Salt Lake City. "It's one of the hardest things to forecast that there is. It's all up to Mother Nature. "There are different sources, Farmer's Almanac, other applications, but those are all guesses."

Some customers may still have unused ice melt from last winter. That could reduce their needs for this year, but it depends on what type of ice melt they have and where it's stored. If they have climate-controlled storage for their ice melt, pretty much anything stored in there should be fine. If not, they're going to want to take a look at what they have left to see if it's usable.

"The effectiveness should be the same, but calcium chloride is hydroscopic, it just sucks up the humidity," says Kevin Wice, president of Xynyth Manufacturing Corporation, Burnaby, British Columbia, Canada. The end result is essentially one giant rock of ice melt, or a collection of large clumps. Magnesium chloride-based ice melt, on the other hand, can be turned to sludge when exposed to humidity.

These are the reasons that most ice melt manufacturers have eliminated their buy-back programs. If the manufacturers don't get usable product back, they can't resell it. If they can't resell it, buy-backs don't make good business sense.
next page of this article:
Consider Hidden Costs Of Cheap Ice Melt Products