Changing Office Layouts Require New Towel Dispensers
Densification Of Offices Creating Restroom Problems
---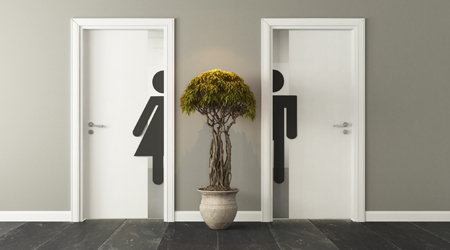 In the 1950s, commercial buildings were typically divided into large offices with doors and windows. By the 1990s, many had been reconfigured to include fewer dedicated offices in favor of rows of cubicles. Today, the trend is to swap out cubicles for shared workstations.

Office buildings continue to cram more workers into the same footprint. In fact, in just the last seven years, the average workspace per person has dropped from 225 to 150 square feet — and is likely to be reduced to 100 square feet in coming years. This trend is happening both in new construction and in older buildings that are being repositioned to attract new tenants.

Densification of office space is primarily driven by a desire to reduce costs.

"Class A office buildings are densifying at the highest rate," says Claude Corcos, marketing director, commercial segment, for SCA Americas, Neenah, Wisconsin. "Their lease rates are the highest, and you can get the biggest bang for your buck with densification."

Cutting space in the name of efficiency has broad implications. Asking workers to get by with less space causes a whole host of issues, from the big-picture challenge of increased distractions to some hyper-specific problems related to cleaning.

It's important that jan/san distributors understand how space reduction impacts their clients. Specifically, how denser workspaces affect the types of paper towel dispensers they need.

"While I think distributors know the trends are occurring, I think it's important for them to understand the downstream effects of it," says Ashley Butler, paper towel category manager for GP PRO, Atlanta.

In new construction, it's easier to provide an adequate ratio of restrooms to building occupants. Many architects stick to the minimum space/stalls required by code, however, which means densely packed buildings may still have excessive restroom traffic.

Older buildings can be far more problematic. Restrooms in those buildings were designed to accommodate fewer people, and cannot expand just because a building has become more crowded.

"There are two areas you absolutely cannot change when it comes to remodeling for densification — the parking lot and the restrooms," says Butler. "How do you solve the problem of having more people in the same space and more hands that need to be dried when the footprint of the bathroom can't change?"

Densification has ramifications beyond an increase of building occupants. It can create another challenge for restroom usage.

"The workplace is changing," says Corcos. "In addition to more employees, the trend of shared offices can also bring more visitors to a building and create unpredictable flow of traffic. It's becoming more and more difficult to predict a building's traffic levels."

Further complicating things is the fact that hand washing is at an all-time high. While it's a positive trend for employee health, it contributes to restroom overload.

"In open office design, you're closer to people than you used to be," says Corcos. "People are being encouraged to make more frequent visits to the washroom to wash their hands more often."

Frequently reloading overused, empty towel dispensers puts a strain janitorial crews. In many cases, cleaning staffs are overworked thanks to budget cuts and demands for efficiency. Plus, facility managers often place restrictions on daytime cleaning.

"Densification creates a higher need for cleaning," says Corcos. "The cleaning crew is going to be stretched. And if you're not going to clean in the middle of the day, the dispensers need to last from morning through the workday."

Increased traffic is likely to also increase customer frustration. According to a survey of office facility executives, a quarter of complaints are already related to empty dispensers — densification is sure to push that number upward.
next page of this article:
Towel Dispensers Designed For High-density Office Layouts
Disclaimer: Please note that Facebook comments are posted through Facebook and cannot be approved, edited or declined by CleanLink.com. The opinions expressed in Facebook comments do not necessarily reflect those of CleanLink.com or its staff. To find out more about Facebook commenting please read the Conversation Guidelines.