Soaps Required To Change Ingredients
Deadline Looms For Triclosan Ban In Soaps
---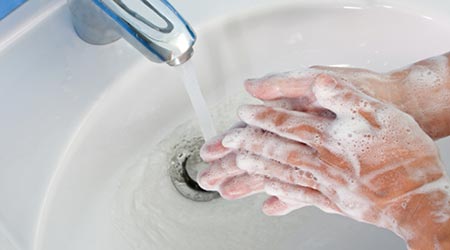 The ingredients in many of the skincare products jan/san distributors sell will be changing — if they haven't already.

On Dec. 18, 2015, Congress passed the Microbead-Free Waters Act of 2015, prohibiting the manufacturing and distribution of soap products containing plastic microbeads. Ten months later, on Sept. 2, 2016, the U.S. Food and Drug Administration (FDA) ruled that it was banning the use of 19 ingredients commonly found in antibacterial hand soaps. This list included triclosan, which is the most commonly used ingredient in antibacterial soaps. Now the outlined deadlines are quickly approaching.

The antibacterial soap ban will have more impact on products in the jan/san industry, but distributors will still need to adhere to all established deadlines regarding stocking and selling in order to comply with the new regulations.


Antibacterial Soaps
The decision to ban 19 ingredients in antibacterial soap has been years in the making. The most common ingredient, triclosan, is in nearly 75 percent of antibacterial soaps that consumers purchase. Despite triclosan's widespread use and long-standing place in antibacterial hand soaps, its ban is not a surprise. In 2013, the FDA issued a proposed rule against the ingredient. This was done as "some data suggested that long-term exposure to certain active ingredients used in antibacterial products … could pose health risks, such as bacterial resistance or hormonal effects."

At the time, the FDA required manufacturers to provide data, "if they wanted to continue marketing antibacterial products containing those ingredients." Because no such data was provided, triclosan and the other 18 ingredients are being banned.

"Companies will no longer be able to market antibacterial washes with these ingredients because manufacturers did not demonstrate that the ingredients are both safe for long-term daily use and more effective than plain soap and water in preventing illness and the spread of certain infections," said the FDA in a news statement regarding the ban.

The ban goes into effect on Sept. 6, 2017.

"There was a need to update the regulations, and it had not been done since the late 1970s, and some data made it timely to engage in this rule making," says Bill Balek, director of legislative and environmental services, ISSA, Northbrook, Illinois.

Similarly, jan/san distributor Brady Industries in Las Vegas says the move away from triclosan is long overdue.

"Many cleaning products are based on very old technology and came out when people in general were less environmentally concerned," says Ryan Banks, vice president of sales and marketing for Brady.

A couple years ago, employees of Brady Industries visited the U.S. Centers for Disease Control and Prevention where they learned about the potential dangers of triclosan and that plain soap and water was sufficient. From then on, the company began moving customers away from triclosan.

Antibacterial soap manufacturers will have to stop shipping antibacterial soaps with the banned ingredients by September 2017. As of now, the FDA has yet to provide clarity on product sell-through dates and as to when distributors would have to stop stocking soaps with triclosan or triclocarban.

Major antibacterial soap manufacturers have already phased out triclosan during the past couple of years. As a replacement for triclosan, there are three ingredients which are still allowed by the FDA: benzalkonium chloride, benzethonium chloride and chloroxylenol.

"We knew the FDA was going to shelve triclosan," says Brian Sansoni, vice president of communication, American Cleaning Institute (ACI), Washington, D.C. "Manufacturers had been preparing by going to one of three other active ingredients that you will now find in soaps."

With the new ingredients, distributors and end users could see a slight increase in soap prices as these ingredients are more expensive, says Balek.

For proactive distributors, the transition to new products has been seamless. Many distributors have been aware of the debate over triclosan for a number of years and began taking action early on.

"We saw it coming for some time, and have been moving away from away from triclosan for a long time," says Ailene Grego, president and CEO, SouthEast LINK, Atlanta.

WAXIE Sanitary Supply in San Diego, has been letting customers know that the ingredient will no longer be available as of September. The company is well on its way to selling all stock with the old ingredients.

"Long before the ban, we had the same position as the FDA. The goal of a hand soap is to get bacteria off of a person's hands, not kill it," says Keith Schneringer, director of channel marketing and sustainability for WAXIE.

Only soaps used in institutional and commercial facilities (in addition to personal consumer use) are affected by the ban. Soaps used in healthcare and foodservice facilities do not have to adhere to the ban. In addition, the ban does not apply to hand sanitizers.

Some distributors such as WAXIE say that other than the foodservice and healthcare industries, antibacterial hand soap, including those with triclosan, is not needed. There's an overuse of disinfectants, which makes them less effective, so the implied benefit is inaccurate, says Schneringer.

Although ACI is pleased that antibacterial products remain fully permissible in hospitals, they note that much of health care now occurs in the home and other non-hospital areas. Therefore, antibacterial soaps can play an effective role in enhancing health and hygiene in the institutional space.

According to ACI data and research, use of antibacterial soaps products in everyday situations is not a major factor in antibiotic resistance. The issue, says Sansoni, has been and continues to be the over-prescription and over-use of antibiotic drugs.

"We want consumers and commercial customers to be able to choose products that best meet their needs," says Sansoni. "Our products are part of the solution and contribute to public health and hygiene."

ACI wants to ensure that manufacturers have a variety of ingredients to choose from to formulate the products that best meet health needs.
next page of this article:
Distributors Must Phase Out Products With Plastic Microbeads
Disclaimer: Please note that Facebook comments are posted through Facebook and cannot be approved, edited or declined by CleanLink.com. The opinions expressed in Facebook comments do not necessarily reflect those of CleanLink.com or its staff. To find out more about Facebook commenting please read the Conversation Guidelines.