Freetime
DPA Buying Group CEO Gives Back To His Alma Mater
---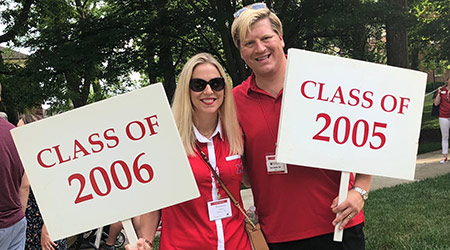 Exactly two years ago, Zac Haines, CEO of DPA Buying Group in Cincinnati, went back to his alma mater for a nine-year stint — but not as a student. This time, he returned to Miami University in Oxford, Ohio as a member of the Board of Trustees. Zac, a fourth generation Miamian, was appointed to the board by then-Governor of Ohio John Kasich and confirmed by the Ohio senate for a nine-year appointment.
"An appointment to this board is a political appointment. You need to have a relationship with the governor or people around the governor," says Zac. "Board members share a commitment to being good stewards of taxpayer money and tuition revenue. We also concentrate on empowering students to be successful. We are constantly recalibrating our course offerings in order to make sure what the students learn is meaningful."
Why call a school in Ohio "Miami University?" Zac says that the university's name came from the Miami Tribe of Oklahoma. The relationship between the Miami Tribe and Miami University is one of a shared name, land and commitment to education and learning.
"We have a close relationship with the tribe and chief in Oklahoma and are proud to award scholarships to the Myaamian students," says Zac.
Zac sits on the academic and student affairs committee, which covers student life, organizations, housing, fraternities and sororities.
"The first rule is to have a safe and healthy environment for our students," says Zac. "A hot issue now is mental health. This is not unique to our institution. Our priority is to make sure we're helping to meet students' mental health needs."
The board meets five times per year for three days of meetings. Before each meeting, Zac studies a 125-page packet of academic and student affairs information — not including the meeting minutes.
"One of the biggest lessons I learned after my first meeting was, 'know your role and stay in your lane.' It's best to not get into the weeds on all the agenda items. There's so much work involved in this position. The time you could spend on Board of Trustees work is infinite," says Zac.
A 2005 graduate of Miami with a degree in zoology, Zac is married to Brittany who graduated in 2006. The couple are what is described as a "Miami Merger," meaning that each is a Miami alumni.
"Miamians have a code: love and honor," says Zac. "We even sign our emails with that code."
Zac is both proud and honored to be serving his alma mater.
"I have a passion for public service," says Zac. "I just want to go all in, show up for everything I can and feel like I contributed something. It's a once-in-a-lifetime opportunity."
Gretchen Roufs, a 25-year janitorial supply industry veteran, owns a marketing and public relations company in San Antonio. To suggest someone you think should be featured in "Freetime," contact her at Gretchen@GretchenRoufs.com.