Case Study
Consistent Chemical Dispensing Improves Laundry Service
---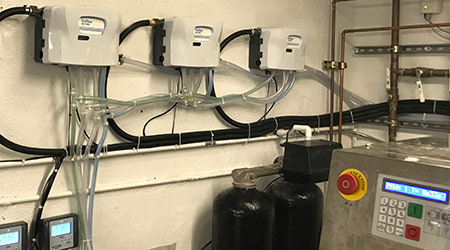 Contributed by Hydro Systems Company.
Butler Chemicals, Inc. is a warewash and laundry sales and service company based in Anaheim, California. The company specializes in helping foodservice, laundry and housekeeping customers effectively monitor chemical expenditures. Butler also offers as-needed emergency service and performs monthly preventative maintenance inspections. For laundry customers, these inspections review the laundry process, water quality and temperatures, dryers and dispensing equipment.
In the past, Butler has installed laundry dispensers that rely on squeeze tubes to deliver chemicals to washers. However, these squeeze tubes need replacing every 3 to 6 months, as over time they result in inconsistent chemical delivery. This can greatly impact the cleanliness of laundered items as well as productivity, sustainability and costs for the laundry operation.
Traditional squeeze tube systems are also visually unappealing and take up a lot of space within a laundry facility. This is because the unit that pumps the chemical and the flush manifold that transfers the laundry products to the washer are separate, and there are many lines running to washers, resulting in a tangled web of equipment in a confined area.
"One of our main challenges has been the lack of visual appeal associated with wall-mounted dispensing units," says Noel Johnson, senior sales manager, Butler Chemicals, Inc. "Laundry facilities should look their best. Yet with dispensers that use squeeze tubes, you can see the age and dirt in the lines and the equipment can easily become sticky and difficult to clean."
In 2018, Butler Chemicals began installing the EvoClean dispenser from Hydro Systems Company, Cincinnati, at several customer sites. EvoClean is a venturi-based, water-powered laundry dispenser. It includes an integrated flush manifold and is available in 4-, 6- and 8-product configurations with either low or high chemical flow rate to accommodate all washer sizes used in on-premise laundry operations.
"When Hydro Systems introduced me to the EvoClean dispenser, I realized this was the answer to the space and cleanliness issues that customers face with traditional dispensers," says Johnson. "Plus, the venturi system eliminates service and repair calls because it consistently delivers the precise amount of chemical to washers."
After installing EvoClean, Butler Chemicals has experienced the following benefits:
Consistent chemical delivery: The EvoClean dispenser doses product quickly and ensures stable, consistent delivery of the chemical to avoid variations that can negatively impact wash cycles.
Cost savings: Over time, squeeze tubes have to be replaced, which drives up maintenance costs. Inconsistent chemical delivery also drives up laundry costs when cycles have to be rerun. Hydro estimates that on average, operators can save $160/dispenser/year.
Greater customer satisfaction: Many of Butler's customers are nursing facilities that must ensure sanitizer and bleach are properly delivered to washers. Often, squeeze tubes have bleach in the line but only pump 20 to 50 percent of it into the washer. With EvoClean, customers don't have to worry about chemical compatibility issues.
Enhanced productivity: EvoClean relies on fewer lines, which further reduces installation time. And without squeeze tubes, Butler doesn't have to replace these components every 3 to 6 months. In facilities with three to six units on a wall, this process, along with calibrations, used to take a half hour to an hour per customer site.
Disclaimer: Please note that Facebook comments are posted through Facebook and cannot be approved, edited or declined by CleanLink.com. The opinions expressed in Facebook comments do not necessarily reflect those of CleanLink.com or its staff. To find out more about Facebook commenting please read the Conversation Guidelines.