Case Study: Switch To Backpack Vacuums Doubles Productivity
---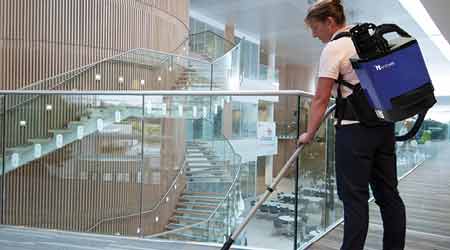 Courtesy of NaceCare

Erzen Associates, Monroeville, Pennsylvania, has been committed to providing the safest and healthiest cleaning products and equipment to their customers in southwestern Pennsylvania, northern West Virginia and eastern Ohio. Commercial, education, healthcare and industrial facility professionals rely on Erzen Associates to keep them informed and trained on best methods and practices.

In 2016, a large state university was interested in procuring new vacuum equipment to replace some older units that were no longer working. Rather than fulfilling a simple replenishment order, John Erzen, president, took the opportunity to demonstrate how changing the type of vacuum used would not only reduce cleaning costs and improve the return on investment on the equipment, but would also improve safety and cleanliness throughout the school.

With support from NaceCare, Erzen could show his customer how switching to the right battery backpack would double productivity rates compared to continuing to use an upright.

This reduction in cleaning time helps reduce labor costs. The time saved vacuuming allows the custodial staff to focus on other maintenance tasks, which improves the overall cleanliness of the school.

In addition, the ability to eliminate cords and the associated tripping hazards, as well as the whisper-quiet operation of the NaceCare backpack — only 45 dBA — allows the staff to clean public areas during operating hours both quickly and easily. Choosing the right battery backpack, one that is a reasonable size and weight for the operator, makes the solution a win for everyone.

"The design of the NaceCare battery backpack is a real winner all-around," says Erzen. "The light weight, quiet operation, long runtime and exhaust venting out the back of the unit not onto the user, make it the perfect solution for both cleaning staff and the environments they work in."

The switch to NaceCare battery vacuums was a success for the university and welcomed by its cleaning staff who could clean better, faster and safer with the comfortable unit. The battery backpack solution was also a success for Erzen Associates as their customer was very happy with the solution and continues to purchase backpack vacuums to replace its old uprights as they need replenishment.

Erzen Associates found that the NaceCare battery backpack was a great solution for another university customer, as well as many of their healthcare accounts. Being able to offer equipment solutions like this one, that save their customers time and money while improving safety and cleanliness, is what makes Erzen Associates such a valued resource to its customers.
---