Cleaning Smarter
Benefits Of Restroom IoT Products
---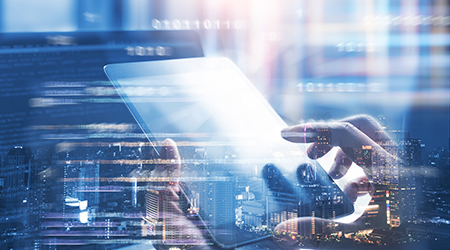 As jan/san distributors know, public restrooms tend to elicit more complaints than any other area of a facility. Whether the culprit is an empty dispenser or a malfunctioning toilet, a negative restroom experience reflects poorly on building service contractors (BSCs) and facility managers — not to mention the businesses they serve.
In the age of COVID-19, clean, well-stocked restrooms with functional dispensers are more important than ever before, as is the need to maximize labor efficiency.
"Right now hygiene is at the top of everyone's mind," says Nancy Farrell, marketing manager, Essity, Philadelphia. "The customers distributors serve are facing pressure to service areas more frequently and do large amounts of sanitizing and surface wiping." To meet these demands, more facilities are employing internet of things (IoT) technology in the restrooms, providing remote, real-time visibility into conditions and usage patterns. Armed with this data, janitors are able to service restrooms more efficiently, freeing up time to focus on other cleaning tasks.
Beyond The Dispenser
Today's smart restrooms consist of internet-connected soap, hand sanitizer, paper towel and toilet tissue dispensers. Sensors embedded in these devices monitor product levels and alert janitors when the dispenser is low on product, empty or in need of maintenance.
Additionally, providers are incorporating flush valves and faucets featuring IoT technology into their smart restroom offerings. These devices monitor water flow and notify maintenance workers if a plumbing issue arises.
According to dispenser manufacturers, a growing number of end users are also integrating people counters, occupancy indicators and feedback screens into their smart restrooms. Not only do these technologies enhance the user experience, but they provide valuable usage data for staffing and scheduling purposes.
Such is the case at Dallas/Fort Worth International Airport where GOJO Industries Inc., Akron, Ohio, partnered with Kimberly-Clark Professional, Roswell, Georgia, and other manufacturers to install smart technology solutions in 305 restrooms. In addition to internet-enabled dispensers, the restrooms feature occupancy indicator lights, flushometers, traffic sensors, and digital signage and surveys.
"Property managers and BSCs want to interconnect many devices into a single interface for a broader restroom solution," notes April Bertram, senior business development director for GOJO's PURELL SMARTLINK Solutions. "For venues like airports and stadiums, it's about patron satisfaction; making sure that no one's waiting and they're having the best experience they can."
Optimizing the end user experience by making sure dispensers are always stocked was the initial impetus for IoT dispenser management, according to Steve Attman, CEO of Acme Paper & Supply Co., Savage, Mayland.
"We've all had that experience where you walk into a restroom and the paper towels are empty, or you have to look in the stall to make sure there's enough toilet tissue before you sit down," he says. " IoT started with the focus on making sure dispensers were full so that people weren't out of product, thus enhancing their customer experience."
As the technology evolved, businesses began integrating people-counting sensors into their IoT solutions — not only in restrooms, but in other areas of the facility.
"People counters took IoT to the next level," says Attman. "It wasn't just the customer experience that people were focused on anymore. Now they could see which bathrooms had the most traffic and when they were at their busiest."
Collecting and analyzing this data allowed BSCs and custodial managers to schedule their labor more efficiently — a strong selling point for distributors stressing efficiencies associated with IoT technology.
next page of this article:
Software Simplifies Dispenser Upkeep, Workflow