Redefining Distribution
Automating Inventory Isn't the Only Advantage of New Technology
---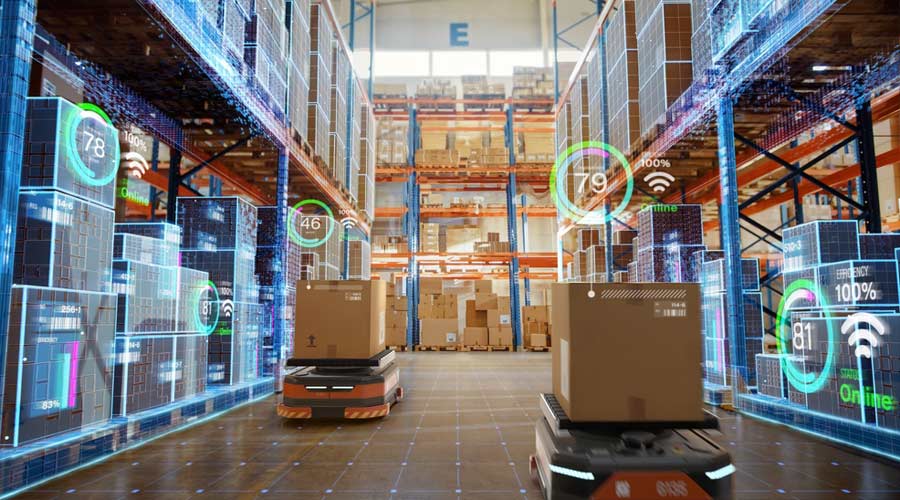 With 9.8 million job openings and only 5.9 million unemployed workers, the U.S. Chamber of Commerce's latest data paints a bleak picture of the job market. The number of open jobs in the U.S. is so high that even if every unemployed person found work, there would still be 4 million positions left unfilled.
Historically low unemployment rates, fewer job seekers and an aging workforce all contributed to challenges with recruitment and retention.
The pandemic further suppressed the warehouse/distribution labor pool, adds Steven Pena, vice president of Galveston, Texas-based Kleen Supply Co.
Employees worried about getting sick in crowded warehouse environments, coupled with the federal government's stimulus checks and higher unemployment payments incentivized many individuals to stay home, according to a Conveyco blog titled, "Warehouse Labor Trends in 2023: Seismic Changes, Shortages, Retention Challenges & More."
Businesses — even small- to mid-sized jan/san distributors — now had to pay higher wages just to compete. But the race to offer higher pay, sign-up bonuses, incentives and other perks only led to increased turnover, Pena adds. Now operations are training people, he says, just to have them leave a few months later for higher-paying jobs.
Kleen Supply Co. was hit harder by this struggle than most. The family-owned business operates a 30,000-square-foot warehouse in Galveston, an island city an hour south of Houston.
"During the pandemic, rental rates went sky high, because everyone who could work remotely wanted to work from the beach. Airbnb numbers skyrocketed and workforce housing on the island dwindled," says Pena. "This has affected our labor pool. We don't have access to the same number of entry-level people anymore. No one wants to drive 20 minutes to make $10-12 an hour, when they can make that in their own backyard."
As Kleen Supply Co. grappled with a dwindling labor force, the pandemic also brought unexpected success. People started to understand the importance of cleaning for health, and it resulted in a 20-25 percent boost in business, Pena says.
He adds, "We had to do something. The pandemic grew our business by shining a spotlight on the cleaning industry, but less availability to labor made us unable to keep up with the increased business."
With the help of new warehouse technologies and processes, Kleen Supply Co. was able to meet clients' increasing needs. Inventory optimization made the warehouse more efficient. Orders were more streamlined and deliveries went out quicker than ever before.
Concerns Over Technology
Warehouses facing significant labor shortages and high customer demands have surged their dependence on robotics, which is predicted to persist beyond 2023.
According to Robotics & Automation News, as many as 50,000 robotic warehouses could be developed by 2025 and up to 8 million robots will be in daily use by 2030. According to Online Robotics, distribution centers will increasingly utilize co-bots (robots that work in tandem with humans) along with automated storage and retrieval systems to save space and increase productivity.
But in the jan/san space, those forecasts could be ahead of their time, Pena predicts.
"There's a reluctance among earlier generations in this business to not have a tangible paper record to see and hold," he says. "There's a fear that going digital might lead to a loss of data, and then you will lose control of what's going in and out."
There is also a financial issue, according to Kevin Lawton, the founder of The New Warehouse podcast. Lawton, who has worked in the distribution and logistics industry since 2012, says that as warehouses increase their pay scales, they may not have money left over for sizeable technological investments.
"The challenge for the small- to mid-sized operator is that they do not have endless amounts of money like an Amazon might have," he says. "However, technology can make workers more productive and their jobs easier to do."
Keep it Simple
Kleen Supply Co. lacked the money and the time to launch itself into a massive tech investment. Instead, Pena says they dipped their toes into the technological waters slowly and methodically, intending to wade deeper as time goes by.
Pena entered the family business in 2020, right as the pandemic ushered in labor challenges and explosive growth.
"The internal growth of the company did not match the sales growth," he says. "I immediately began looking for efficiencies that we could utilize, the first of which was better inventory management. We needed to better understand what we were selling and who we were selling it to in order to reduce SKUs. There is no need for 10 different paper towels, if three or four options will do."
At the time, the business started by Pena's grandfather in 1971, still operated on a primarily paper-based system. Here, the low-hanging technological fruit was to get inventory control systems and accounting online.
"Our first step was to reduce SKUs by reaching out to manufacturers to get the best products at the best price," he says. "Then we went out to customers to make them aware of the changes and to ensure they were okay with the product mix we planned. We developed a different purchasing program and then we purchased every employee a computer."
Pena admits adding computers may sound "silly," but at the time the company only had a couple computers in the entire warehouse.
"We added computers and installed a virtual network with Amazon cloud services," he says. "This put everyone on the same page because it linked all of our databases and printers together. We could share in real time what was going on in the warehouse, the sales department and the purchasing department so that we could all make better decisions in real time."
The changes improved customer service, he adds. Customers know exactly when they can expect the products they order.
"I tell my guys that good customer service is consistent customer service," says Pena. "By having all information readily available to use, we can be consistent in our message to the customer. If we do not have the product in inventory, we can tell them that and tell them when we will have it."
Picking also improved because pickers now work off of printed pick sheets built from actual inventory. They also initial those sheets to show accountability for what they picked.
Although picking isn't yet automated, Pena adds that it will be in the future. Kleen Solutions is considering bar-coding products as its next step.
"We don't do any bar coding right now," he says. "But picking and pulling would really benefit from bar coding. We are also considering adding digital signature capabilities when we deliver. We currently use carbon copies for that."
Kleen Supply Co.'s phased technology implementation is one that Lawton advises for all warehouses, especially those just embarking on a technological journey. There's a lot of innovation happening, and it is easy to get lost in that sea of technology.
"If you are just starting a journey to automation and robotics, it can get really overwhelming," Pena says. "It's a challenge not to get caught up in the 'shiny object syndrome' instead of understanding your actual needs."
All too often, operations focus on the hardware, i.e., the robot or automation solution itself, and overlook the software component that will tie everything together in the long term. It's important distributors start with the software.
Pena points out that too many distributors are currently using antiquated processes and warehouse management systems (WMS). Instead, what they should be doing is examining their existing processes and slowly adding technology to create a foundation of automation that will grow and evolve over time.
"Throwing technology at flawed processes will not make these processes better," he says. "Maybe those processes will happen a little faster, but it won't drive the efficiencies you were hoping for."
He gives an example in picking orders where a warehouse hasn't optimized inventory slotting, but decides to a robot to perform picking.
"You won't see any improvement because you haven't taken the time to optimize your slotting," he says. "You need to optimize your slotting and position your inventory in a way that reduces travel time during picking. Then when you add a robot, you will see productivity gains."
Once a company has identified areas for improvement, Lawton advises grasping onto the low-hanging fruit. This might be investing in computers, networking and software databases, or adding simple automation in picking or at the shipping dock.
"Consider ways to make movements easier," Lawton says. "That is a great place to start and get into technology without adding too much complexity all at once."
Dig Into the Data
Data analysis isn't viewed by some as a technology, but many experts suggest it should be. There's a lot of information to glean from better data that can optimize operations.
For example, Kleen Supply now has almost four years of statistics on hand, and every year those facts and figures improve and become more useful. To date, Pena has used the data collected to work with his accountant on the development of dashboards that provide insight into where the company is going, performance based on profit margin and projections on areas of growth.
"With data," he adds, "you open yourself up to so much more opportunity and better control of your business. You can see the business from a 30,000-foot vantage point, and pull together daily, weekly and monthly reports that give a clear picture of where you are and where you are going."
Tap into What's Available
Distributors will have options when it comes to available technologies. In fact, Lawton comments that there are quite a few that will help improve operations. Autonomous Mobile Robots (AMRs), for example, can help move pallets that must negotiate the same path repeatedly every shift.
Proper product slotting can increase labor productivity, throughput and order accuracy, according to Lawton. Dynamic slotting is an option, he says, that uses artificial intelligence to eliminate the time-consuming engineering and manual modeling required for traditional warehouse slotting systems.
From a storage perspective, Lawton says automated storage and retrieval systems (ASRS) can help. These systems offer efficient robotized storage and order processing solutions that integrate into existing buildings. The system facilitates storage and picking by incorporating robots and bins to quickly process orders.
"These solutions get more product into a small space and improve throughput," he says.
The Internet of Things is also driving warehouse efficiency. For example, sensor kits capture all forklift movements. The sensors can also be used to create a three-dimensional map of the warehouse and track fleet locations and activities for managers.
"You can track those assets to gain wide-scale visibility into large warehouse operations," Lawton says. "Greater visibility via a platform like this can prevent accidents to increase safety and streamline operations."
Training forklift operators also can be done virtually, he adds. For example, simulators offer an effective learning experience for student operators and an efficient teaching tool for instructors. Users enter a simulated warehousing environment on a forklift truck or buck, and train in its use before ever operating the real thing.
"Virtual training options can get someone up and running within a couple of hours versus a couple of weeks," Lawton says. "The user interfaces in many of the training systems make it easier for students to go through training and understand the information."
Training is one tech area that Pena is looking closer at. He says Kleen Solutions' insurance carrier offers online modules on safety, manufacturers offer product training, and there is safety training available online.
"I'd like to have my warehouse staff take all of this training because if they're more knowledgeable on products and processes, it helps them operate safely and efficiently around the chemicals we work with," he says.
Other technologies are available to help warehouses streamline ordering by automating procurement functions. Lawton stresses that these offerings can not only streamline ordering processes, but will provide simple price comparisons so distributors can make wise purchasing decisions.
He adds that there are also apps that enable warehouse and distribution operations to optimize and streamline their processes. These will examine a procedure, the steps currently being taken, and then suggest a more efficient process.
"There is another app that lets warehouses post jobs in the gig economy, soliciting workers for a couple of hours or for short projects to address labor gaps," Lawton says.
Many of these new offerings are moving to open system architecture, which provides user access from any smartphone. Now warehouse managers and supervisors can be on the floor and look up information from wherever they are.
Reap the Returns
Every dollar counts in a warehouse operation, so most operators need to calculate a return on investment (ROI) for every tech spend. However, it's important to note that many companies, especially in the area of robotics, are offering subscription solutions. For example, some offer warehouses the ability to scale up their robot operations during peak season and scale them down when things are slow.
"You only pay for the robots you use," says Lawton. "Those kinds of pricing structures make it easier for small- to medium-size businesses to access this technology. ROI really depends on the pricing structure available."
All these technologies are great, but Pena says they may be out of reach for many jan/san operations.
"We've been very intentional and scaled our progress," he says. "We didn't just rip off the Band-Aid and throw money at technology. We started with our inventory, and plan to take it step-by-step from there. We've done it slower than some would want, but it's helped us learn along the way and adjust when needed."
Pena leaves jan/san warehouse and distribution operations with a final piece of automation advice: Get help from automation experts.
"Having a network of experts can help you tailor technology updates to your needs," he says. "By doing that, you open yourself up to much more opportunity and much more data, gaining efficiencies through automation along the way."
Ronnie Wendt is a freelance writer and owner of In Good Company Communications in Waukesha, Wisconsin.