A Crucial Clean
Assessing Top Products For Hand Hygiene
---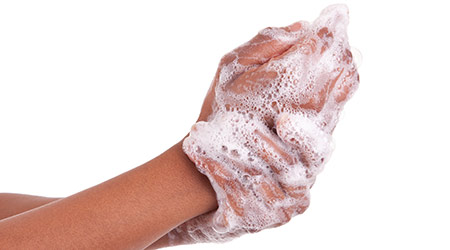 As the pandemic continues to impact the country and the world, facility managers and businesses are tasked with encouraging the use of proper hand hygiene throughout their facilities. Whether that is a hospital, educational facility or another commercial building, encouraging the practice of handwashing can go a long way toward keeping those buildings open and safe from viruses and bacteria.
Distributors of jan/san products have been preaching the importance of handwashing for years, and the general consensus among industry leaders is the message has been embraced by managers.
"Years of handwashing information was definitely absorbed by customers," says Glen Huizenga, sales leader at Holland, Michigan-based Nichols. "They have understood that proper hand hygiene is important to the health of all. During COVID-19, customers have executed and applied that knowledge with the expectation that people will be washing their hands."
Distributors can help these clients continue to navigate the COVID waters by exploring the number of the products they offer and their features.
Focus On Fragrance
When consumers purchase soaps at the store for home use, they will opt for a fragrance that appeals to their sense of smell, but cleaning managers do not have that luxury. A fragrance that appeals to the nose of one building occupant could be repugnant to another and cause a person to avoid washing hands. That's why it's important that distributors point their customers in the right direction.
"Fragrances and scents can sometimes become a double-edged sword," says Keith Schneringer, director of channel marketing and sustainability for Waxie Sanitary Supply, San Diego. "While it's recognized from hand soaps that people like to have the right fragrance, they typically don't want something that's overpowering. Sometimes it's good to stick with fresh, clean scents."
Linda Silverman, president of Maintex, City of Industry, California, believes it could benefit distributors to suggest soaps with a specific scent.
"Scents can be a pleasurable experience," says Silverman. "They can invoke memories of cinnamon or Christmastime. If people like the scent, they're more likely to wash their hands. There are two schools of thought, but I think that your scented soaps far exceed the sales of those that are unscented."
Liquid Vs. Foam
Prior to COVID-19, the commercial cleaning industry was trending toward offering foam soap more than liquid or gels. That decision between the two options involves a couple of important considerations.
"Foam has a cost-saving aspect to it and a visual enhancement, as customers see that foam hit their hands with one pump," says Gary Lynch, business development manager for Central Sanitary Supply in Modesto, California. "It gives them plenty of soap to wash their hands. With the liquid, you tend to see two or three pushes, when the foam hand dispenser pushes once. It's a visual for the end-user to feel like they've got enough product in their hands to do the necessary job."
While customer satisfaction is key, it does come at an added cost.
"You can buy a gallon of pink liquid hand soap for about $3 to 4 a gallon," says Lynch. "Your foam cartridges are going to be a little more."
While the upfront cost of foam soap is greater than that of liquid or gel, customers generally see savings on the back end.
"Foam soap is more effective long term," says Huizenga. "It will have a higher case price, but yield more hand washes per case."
Maintenance is also an important factor to considering which kind of soap to suggest to customers.
"Liquid soap dispensers need a little more maintenance because they have orifices that clog over time," says Lynch. "You're usually taking out those dispensers and running them through hot water to clean them so they can work again. The foam dispensers tend to not do that because the air that shoots the soap out doesn't tend to clog as much."
next page of this article:
Tips To Promote Handwashing
Disclaimer: Please note that Facebook comments are posted through Facebook and cannot be approved, edited or declined by CleanLink.com. The opinions expressed in Facebook comments do not necessarily reflect those of CleanLink.com or its staff. To find out more about Facebook commenting please read the Conversation Guidelines.