Making Music
Alliance Marketing President Blends Music With Business
---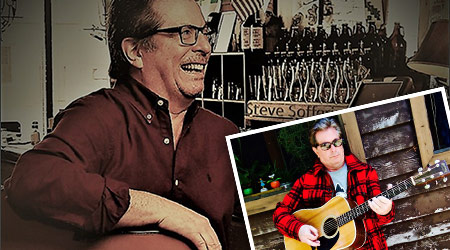 As I'm writing this, I'm listening to some original, head-bobbing, foot-tapping, real stories set to some very lovely music by a talented singer-songwriter. That music-maker is Steve Sofferin, president of Alliance Marketing, a manufacturers rep firm based in Buffalo, New York, and Toronto, Canada.
After 50 years of singing and writing songs, Steve decided to make his own album. Rather than going the do-it-yourself route — as many artists do these days — Steve decided to do it just like the big music companies. He hired a producer, arranger, recording studio and engineers.
The album took two years to record, mainly because of Steve's "day job" and ability to commit to times in the studio. In the end, the producer he hired helped him make a 10-song album.
"The producer also acted as the arranger for the album, taking each song and arranging it for the various musicians we hired," says Steve. "He made the decisions about the style and whether a song should be acoustic, electric, country or jazzy. We ended up with five rock-blues-pop songs and five that were more folky-country style."
All songs on the album, called "History," are Steve's originals, written over the past 30 years. There were 25 different musicians on board throughout the album process, from strings to banjo to trombone. Many of the artists were younger and unfamiliar with Steve's music, so he felt compelled to prove himself.
Steve said it was difficult to understand the process and to develop the confidence to keep up with the professional musicians. Eventually, he got comfortable, and now he loves to collaborate.
"We would take a raw song idea through this wonderful experience of having these talented, trained musicians, producers, and engineers plan and execute the music," says Steve. "I got to kind of glide along with them and learned a lot about the process and about music."
Steve is a 2018 winner of an International Acoustic Music Award for his "Porch Song," which is a selection on his album and inspired by his college days.
"While a student at the University of Michigan, I lived with four guys in a big house and we were always playing music on our big wrap-around porch," says Steve. "One of the guys I played with back then taught me a lot about bluegrass. We recently reconnected because he discovered my album."
In an effort to spread his joy for music, Steve also weaves his album into business.
"I use my albums as ad specialties," he says. "Instead of giving my customers a pencil, I give them a CD."
Disclaimer: Please note that Facebook comments are posted through Facebook and cannot be approved, edited or declined by CleanLink.com. The opinions expressed in Facebook comments do not necessarily reflect those of CleanLink.com or its staff. To find out more about Facebook commenting please read the Conversation Guidelines.